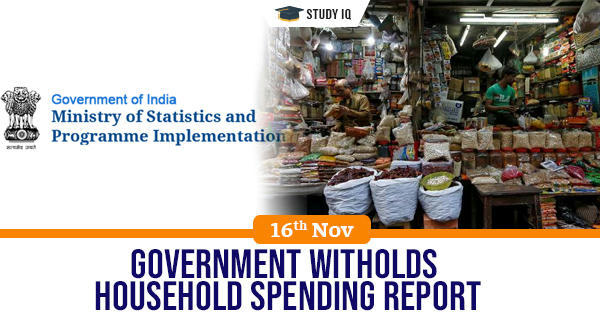 Government witholds household spending report
Date: 16 November 2019
Tags: Basics of Economics
Issue
The government has decided not to release the household consumer expenditure survey results of 2017-18 due to data quality issues.
Background
It is alleged that the report has been suppressed because it showed that consumer demand declined in 2017-18 for the first time in more than 40 years.
Details
The Ministry of statistics and program implementation has said that the report cited in the media was a draft and should not be considered the final report.

They said that they were planning the next consumer expenditure survey in 2021-22 after data quality refinement in the survey process.
Household spending
Household spending is the amount of final consumption expenditure made by resident households to meet their everyday needs, such as food, clothing, housing (rent), energy, transport, durable goods (notably cars), health costs, leisure, and miscellaneous services.
There are two components of consumer spending: induced consumption and autonomous consumption.
Induced consumption
Induced consumption is the portion of consumption that varies with disposable income. When a change in disposable income "induces" a change in consumption on goods and services, then that changed consumption is called "induced consumption".
Autonomous consumption
Autonomous consumption is the consumption expenditure that occurs when income levels are zero. Such consumption is considered autonomous of income only when expenditure on these consumables does not vary with changes in income.