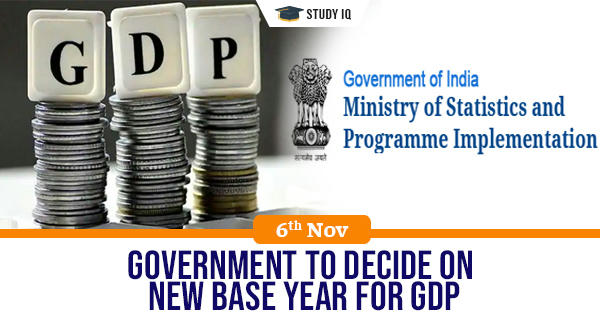 Government to decide on new base year for GDP
Date: 06 November 2019
Tags: Basics of Economics
Issue
The Ministry of Statistics and Programme Implementation (MOSPI) will decide on a new base year for calculating the Gross Domestic Product (GDP) in the next few months.
Background
Though 2017-18 is under consideration as the new base year, no final decision has been taken as the committees of experts are awaiting some more data before finalising their opinion.
Details
The economic growth slowed to over six-year low of 5 per cent in April-June this fiscal. The government has been taking steps to boost investment and perk up the sagging economy.

The industrial production for September has seen a decline after core sector output contracted 5.2 per cent during the recent month according to experts.
GDP
Gross Domestic Product (GDP) is the total monetary or market value of all the finished goods and services produced within a country's borders in a specific time period.

As a broad measure of overall domestic production, it functions as a comprehensive scorecard of the country's economic health.

GDP can be calculated in three ways, using expenditures, production, or incomes. It can be adjusted for inflation and population to provide deeper insights.
Types of GDP
Nominal GDP is the measurement of the raw data.

Real GDP takes into account the impact of inflation and allows comparisons of economic output from one year to the next and other comparisons over periods of time.

GDP growth rate is the increase in GDP from quarter to quarter.

GDP per capita measures GDP per person in the national populace; it is a useful way to compare GDP data between various countries
Selection of base year
A base year is the first of a series of years in an economic or financial index. It is typically set to an arbitrary level of 100.

New, up-to-date base years are periodically introduced to keep data current in a particular index. Any year can serve as a base year, but analysts typically choose recent years.

A base year is used for comparison in the measure of a business activity or economic index.
Current method of GDP calculation
India's Central Statistic Office calculates the nation's gross domestic product (GDP).

India's GDP is calculated with two different methods, one based on economic activity (at factor cost), and the second on expenditure (at market prices).

The factor cost method assesses the performance of eight different industries.

The expenditure-based method indicates how different areas of the economy, such as trade, investments, and personal consumption, are doing.