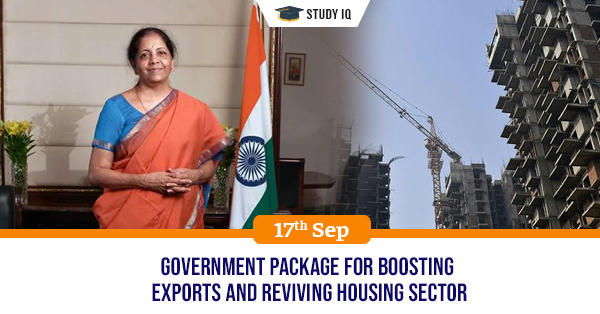 Government package for boosting exports and reviving housing sector
Date: 17 September 2019
Tags: Economic Reforms
Issue
Union Finance Minister Nirmala Sitharaman has announced a third set of government decisions to revive the economy, including a ?50,000 crore export incentive scheme and a ?10,000 crore special window to provide last mile funding for unfinished housing projects.
Background
The decisions announced by the minister follows two previous mega announcements planned to encourage private sector investment, and bring further stability into the banking system through several public sector bank mergers.
Details
The most notable decision is the setting up of a special fund that would provide last-mile funding for housing projects that are not categorised as non-performing assets and are not undergoing National Company Law Tribunal proceedings.

The setting up of the Scheme for Remission of Duties or Taxes on Export Product (RoDTEP), will replace the Merchandise Exports from India Scheme (MEIS).

The Reserve Bank of India is also looking into modifying the priority sector lending norms for the export sector to release an additional ?36,000 crore to ?68,000 crore as export credit.

The reforms package also included ways to make the sector more efficient and globally competitive. The entire process of export clearances will be digitised and all offline or manual processes will be eliminated to reduce the 'time to export'.

The government is also planning to ease external commercial borrowing guidelines to facilitate financing for home buyers who are eligible under the Pradhan Mantri Awas Yojana, and that the interest rate on house building advances will be lowered and linked with the 10 Year Government Security yields.