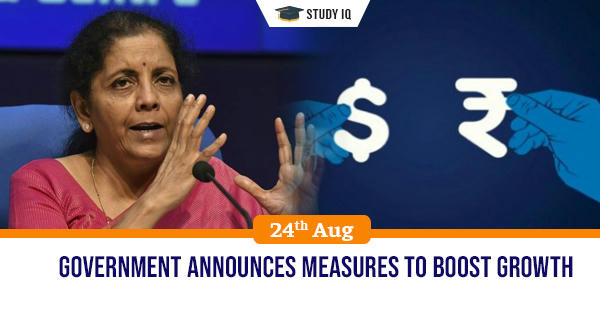 Government announces measures to boost growth
Date: 24 August 2019
Tags: Economic Reforms
Issue
In a bid to stabilise the faltering economy, Union Finance Minister Nirmala Sitharaman announced various measures.
Background
FPI or foreign portfolio investment is the entry of funds into a country where foreigners deposit money in a country's bank or make purchases in the country's stock and bond markets.

The steps by government comes in the wake of a slide in equity markets and a slowdown in demand that has impacted industries ranging from automobiles to items of daily use such as biscuits and groceries.
Measures announced
Removal of the surcharge on capital gains on shares for both foreign and domestic investors.

Upfront amount of Rs. 70,000-crore equity infusion into public sector banks to boost lending.

The government assured that ICE (internal combustion engine) vehicles will coexist with EVs (electric vehicles) and there will be no phasing out of ICE vehicles, a fear expressed by the auto industry.

Ban on govt departments lifted for purchase of vehicles to replace old ones.

To provide immediate liquidity to thousands of companies, the government announced that all pending GST refunds will be paid to Micro, Small and Medium Enterprises within 30 days. In future, all GST refunds shall be paid within 60 days from the date of application.

To mitigate genuine difficulties of start-ups and their investors, it has been decided to withdraw Angel Tax from them. The exemption will be applicable to only those start-ups that are registered with the Department for Promotion of Industry and Internal Trade.
Implications of policy
It will boost fund flows in equity and debt markets, increasing the velocity of money so that more transactions take place.

Changed automobile policy will boost production and keep jobs intact. Consumption in products likely to boost growth.