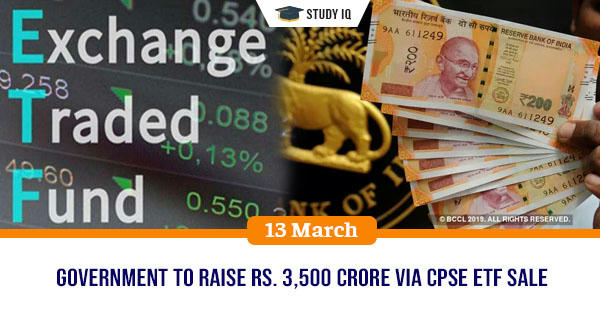 Government to raise Rs. 3,500 crore via CPSE ETF sale
Date: 13 March 2019
Tags: Basics of Economics
Union Finance Ministry will launch additional offering of CPSE-Exchange Traded Fund (ETF) on March 19, 2019 to raise at least Rs. 3,500 crore. This ETF sale through follow-on fund offer will come with option of retaining up to Rs. 5,000 crore via green shoe option.
Previous CPSE-ETF offerings
In November 2019, Government had raisead up Rs 17,000 crore. It was biggest disinvestment transaction through ETF. The proceeds from this ETF sale will help Government to achieve Rs. 80,000-crore disinvestment target set for this fiscal. As on February 2019, Government has realized Rs.56,473.32 crore as disinvestment proceeds.
Greenshoe option
In security issues, it is over-allotment option. It is provision in underwriting agreement that grants underwriter right to sell investors more shares than originally planned by issuer if demand for security issue proves higher than expected.
Exchange-traded fund (ETF)
It is essentially index funds that are listed and traded on exchanges like stocks.

It is basically basket of securities that are traded, like individual stocks, on an exchange. Each stock in it is assigned weights that reflects composition of index.

It is similar to mutual funds in certain manner but is more liquid as it can be sold quickly on stock exchanges like shares.