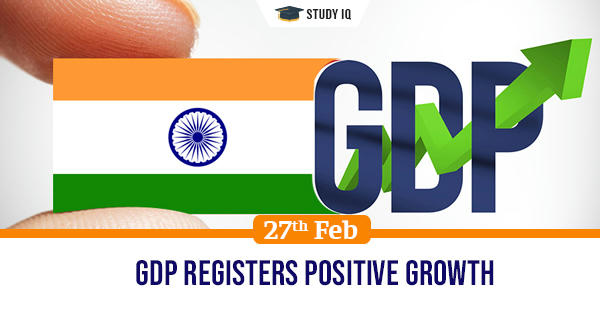 GDP registers positive growth
Date: 27 February 2021
Tags: Basics of Economics
Issue
The economy expanded 0.4% in the December quarter to emerge from a pandemic-induced recession.
Background
The recovery is expected to strengthen as the country's vaccination programme gathers steam and consumers become more confident to travel, dine out and shop.
Details
Data released by the National Statistical Office (NSO) showed GDP contractions for June and September quarters were revised to 24.4% and 7.3%, respectively, against earlier estimates of 23.9% and 7.5%.

The return to economic growth was helped by the resumption of economic activity as the government lifted lockdown restrictions and boosted spending.

The government's final consumption expenditure rose after contracting in the first two quarters, supporting economic recovery.

While crude oil, natural gas, refinery products, and cement output continued to contract in January, steel and electricity output continued to expand.
GDP
Gross domestic product (GDP) is a monetary measure of the market value of all the final goods and services produced in a specific time period.

GDP provides an economic snapshot of a country, used to estimate the size of an economy and growth rate.

GDP can be calculated in three ways, using expenditures, production, or incomes. It can be adjusted for inflation and population to provide deeper insights.
Nominal GDP
Nominal GDP measures a country's gross domestic product using current prices, without adjusting for inflation.
Real GDP
Real GDP is a measure of a country's gross domestic product that has been adjusted for inflation.
GDP at PPP
Purchasing power parity (PPP) allows for economists to compare economic productivity and standards of living between countries.
Recession
A recession is a situation of declining economic activity. Declining economic activity is characterized by falling output and employment levels.