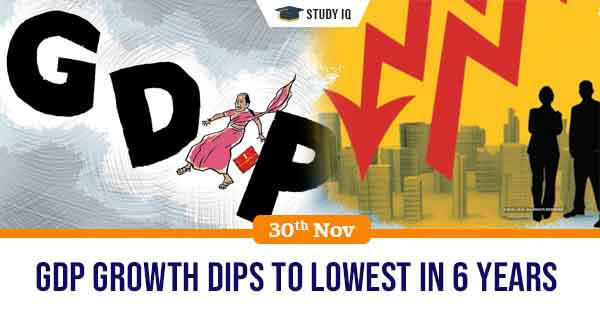 GDP growth dips to lowest in 6 years
Date: 30 November 2019
Tags: Basics of Economics
Issue
India's annual growth in gross domestic product or GDP fell to 4.5% for the quarter ended September 30, down from 5% in the previous three months and 7% for the corresponding period of 2018.
Background
The government has taken several steps, including a big cut in corporate tax rate in September, to boost investments and bolster economic growth. But the economic growth has failed to recover big time.
Details
According to the data released by National Statistical Office (NSO), the gross value added (GVA) growth in the manufacturing sector contracted by 1% in the second quarter of this fiscal from 6.9% expansion a year ago.

Similarly, farm sector GVA growth remained subdued at 2.1%, down from 4.9% in the corresponding period of the previous fiscal.

Construction sector GVA growth too slowed to 3.3% from 8.5% earlier. Mining sector growth was recorded at 0.1% as against 2.2% contraction a year ago.

Trade, hotel, transport, communication and services related to broadcasting growth was also down to 4.8% in the second quarter from 6.9% a year ago.

On the other hand, public administration, defence and other services reported improvement with an 11.6% rise during the quarter under review from 8.6% a year earlier.

India's fiscal deficit in the first seven months through October stood at ?7.2 lakh crore, or 102.4% of the budgeted target for the current fiscal year.
Reasons
The credit market has been in tatters after IL&FS collapse. The NBFCs that lend to companies have stopped lending to wholesale segment.

The commercial banks have reduced their lending significantly due to accumulating bad loans.

The growth in collections from Goods and Services Tax and Direct Taxes has reduced for the full year, the Central government has been staring at a shortfall of a Rs 2.7 lakh crore in 2019-20.
Measures
Government spending can create demand in the market and boost consumption. The increased consumption pattern is set to help manufacturing sector to recover.