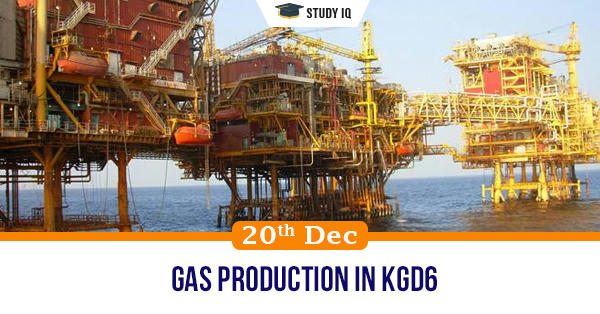 Gas production in KGD6
Date: 20 December 2020
Tags: Infrastructure
Issue
Reliance Industries Ltd and BP (British Petroleum) have announced the start of gas production from the R cluster, the deepest off-shore gas field in Asia.
Background
The field is the first of three deepwater gas projects in the KGD6 block jointly developed by RIL and BP to come onstream.
Details
The R cluster in the Krishna Godavari Basin are expected to produce around 30 Million standard cubic metres per day of natural gas or about 15% of India's projected demand for natural gas by 2023.

The R cluster field alone is expected to have a peak production of 12.9 MMSCMSD or about 10% of India's current natural gas output.
Importance
Increased domestic production of natural gas is an important aspect in reducing India's dependence on imports and improve energy security.

The projects are a key part of the plan to boost domestic production of natural gas to increase the share of natural gas in India's energy basket from 6.2% now to 15% by 2030.

India had estimated crude oil reserves of 618.95 million tonnes (MT), increasing by 4.1% from the previous year.

The largest reserves are found in the Western Offshore (Mumbai High, Krishna-Godavari Basin) (40%), and Assam (27%).
Reserves map on East coast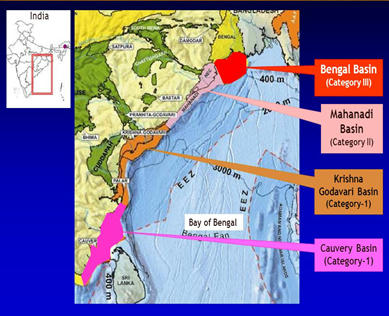 Changes to gas tariff system
Recent changes in the formula for gas transport tariffs are likely to benefit Reliance and BP's investments in these three fields.

The new system charges consumers based on the distance from the source of gas and the number of pipelines used to a unified gas tariff system through with one tariff for gas transported within 300 kms and another tariff for gas transported beyond 300 kms from the source of the natural gas.