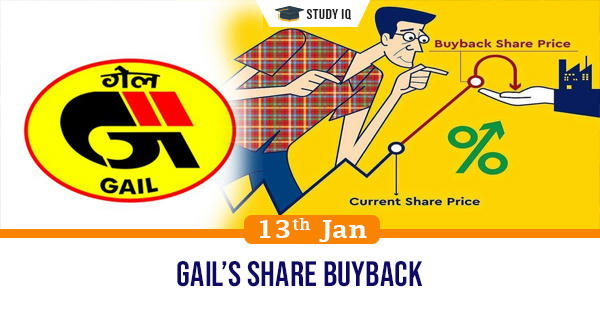 GAIL's share buyback
Date: 13 January 2021
Tags: Miscellaneous
Issue
The board of directors of GAIL is set to consider a share buyback of shares which will distribute surplus reserves to shareholders including the Government of India.
Background
The centre has asked a number of public sector units to issue buybacks to help shore up its finances, which have been hit by the pandemic.
Details
Share buyback
A share repurchase or buyback is a decision by a company to purchase its own stock from the market.

Such a move reduces the number of outstanding shares of the company and tends to push up their price and is often undertaken when management considers the company's shares undervalued.

It is also a key way to transfer surplus earnings to shareholders and tends to lead to an increase in share prices.
Benefits to the government
The government holds 52.1% stake in GAIL. In a recent share repurchase offer by NTPC, the government of India sold shares worth over Rs 1,066 crore back to the company accounting for around 47% of the shares.

The government also received Rs 1,377 crore from a share buyback offered by NMDC taking up over 99% of the buyback offer.
GAIL
GAIL is an Indian public sector natural gas processing and distribution company headquartered in New Delhi.

Its business include natural gas, liquid hydrocarbon, liquefied petroleum gas transmission, petrochemical, city gas distribution, exploration and production, and electricity generation.

GAIL was conferred with the Maharatna status on 1 Feb 2013, by the Government of India.