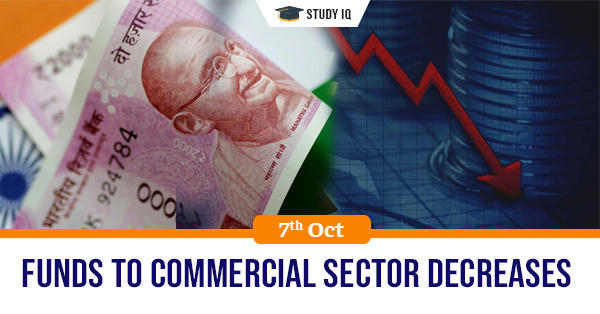 Funds to commercial sector decreases
Date: 07 October 2019
Tags: Public Finance
Issue
financial flows to the commercial sector have declined sharply, by around 88 per cent, during the first six months of the current financial year amid the slowdown in the economy.
Background
Credit growth to services has decelerated sharply since January 2019. Of the incremental non-food credit flow during the year, personal loans accounted for the largest share, followed by services and industry.
The commercial sector does not include farming, manufacturing and transportation.
Details
According to the latest RBI data, the flow of funds from banks and non-banks to the commercial sector has been Rs 90,995 crore in 2019-20 so far (April to mid-September) as against Rs 7,36,087 crore in the same period last year.

There has been a reverse flow of Rs 1,25,600 crore from the commercial sector to non-deposit-taking NBFCs and deposit-taking NBFCs as against a flow of Rs 41,200 crore in the same period last year.

Among domestic non-bank sources of funding, public issues of equity and private placement increased significantly.

Among foreign sources, both external commercial borrowings and foreign direct investment (FDI) registered sharp increases.

The External Commercial Borrowings rose from an outflow of Rs 653 crore to a flow of Rs 54,073 crore and FDI from Rs 106,961 crore to Rs 152,119 crore during April to mid-September.

Various regulatory initiatives and measures taken to enhance availability of funds have improved market sentiment to some extent and it is expected to boost commercial activity.