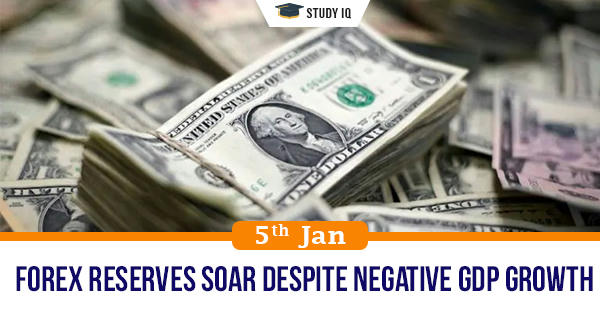 Forex reserves soar despite negative GDP growth
Date: 05 January 2021
Tags: Economic Planning
Issue
India's foreign exchange reserves have zoomed by over $103 billion in the current fiscal. It looks all set to surpass the all-time-high increase of $110.5 billion recorded in 2007-08.
Details
In 2007-08, the economy was booming, registering a gross domestic product growth of 9.3 percent on top of 9.6 per cent and 9.5 per cent in the preceding two years.

The Centre's fiscal deficit, too, was a mere 2.5 percent of GDP. India could, then, easily withstand the shock from the global economic crisis that followed one year later.

The economy, by contrast, has contracted by 14.9 percent year-on-year in April-September 2020-21 and the RBI expects growth for the whole fiscal to be -7.5 per cent.

The most optimistic projection of the Centre's fiscal deficit for 2020-21 is at 6.5-7 per cent of GDP (as against the budgeted 3.5 per cent).
Reasons for forex growth
The forex reserve accumulation in 2020-21 has been driven mainly by the country's current account balance turning positive at $34.7 billion during April-September.

Foreign portfolio investors, too, have pumped $28.65 billion into Indian equity and debt markets so far this fiscal.

The current account surplus has also been supplemented by some foreign capital inflows. Reliance Industries alone attracted global investments aggregating $27 billion in its Jio Platforms digital and retail businesses.

The 10-year US treasury yields currently at 0.91 percent, 0.19 percent for UK, 0.01 percent for Japanese, and minus 0.58 percent for German government bonds of the same tenure.

The investors are being pushed to seek returns in emerging market economies offering relatively higher returns.