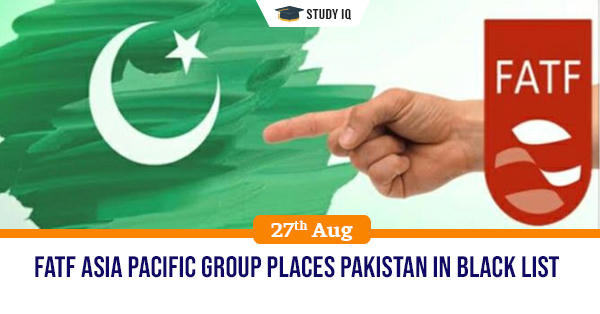 FATF Asia Pacific group places Pakistan in Black List
Date: 27 August 2019
Tags: Economic Organizations
Issue
Pakistan's Prime Minister Imran Khan has set up a 12-member committee to ensure the execution of Financial Action Task Force's (FATF) 27-point action plan, after the country was put on a terror 'blacklist' by Asia-Pacific grouping of FATF.
Background
The FATF plays a central role in global efforts in combatting terrorist financing. It plays its role through setting global standards to combat terrorist financing, assisting jurisdictions in implementing financial provisions of the United Nations Security Council resolutions on terrorism. It also evaluates countries' ability to prevent, detect, investigate and prosecute the financing of terrorism.
FATF (Financial Action Task Force)
The Financial Action Task Force, is an intergovernmental organization founded in 1989 on the initiative of the G7 to develop policies to combat money laundering. In 2001 its mandate expanded to include terrorism financing.
Details
Asia Pacific Group had placed Pakistan in an 'Enhanced Expedited Follow-Up List' and found that the country was non-compliant on 32 of the 40 compliance parameters related to terror financing and money laundering.

Pakistan now has to focus on avoiding the FATF blacklist in October, when the 15-month timeline on the FATF's 27-point action plan ends.
Effect of the Move
Pakistan's continuance in the 'Grey List' means its downgrading by the International Monetary Fund (IMF), the World Bank, the Asian Development Bank (ADB), the European Union and also a reduction in risk rating by Moody's, S&P and Fitch.

It will continue to suffer on several counts, especially in the economic, trade, finance and defence sectors.