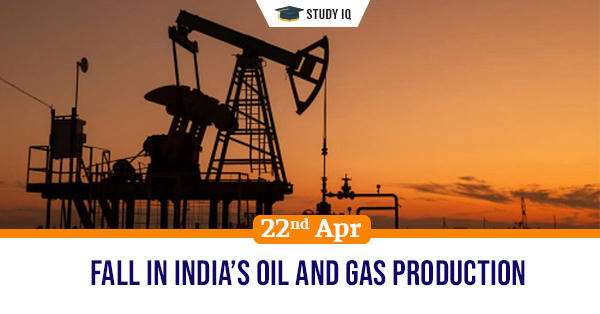 Fall in India's oil and gas production
Date: 22 April 2021
Tags: Miscellaneous
Issue
Domestic production of India's oil fell by 5.2 per cent and natural gas by 8.1 per cent in the Financial Year 2021.
Background
India has a small share of domestic petroleum extraction industry which is shrinking due to increasing costs of maintenance.
Details
The major reason cited by producers behind lower production is the delays caused due to the Covid-19 pandemic.

Most of India's crude oil and natural gas production is extracted from wells that have become old and their outputs have been declining.

India's oil and gas field have become more difficult for extracting and producers have to find new ones that are located in deep waters.

These fields are difficult to reach and the cost of extraction is also high. The other feasible fields are located in inaccessible areas.

Major players in oil and gas extraction are government owned ONGC and Oil India. Foreign players are not interested in bidding.

The government has been urging ONGC to tie up with foreign companies so that it can avail the technology to extract from difficult terrain.
Reasons for low participation
The major reason cited by foreign companies is the delays in getting clearances for environment as well from regulator for development plans.

The cess levied on the domestically produced crude oil is high and industries have been urging to reduce it to 10 percent from existing 20 percent.

The government has also set up internal maximum production levels for extracting oil and gas based on climate targets that has lowered interest from industry.
Significance
Boosting domestic production of gas and oil is a major part of the government's Aatmanirbhar Bharat initiative.

If our production levels do not match with consumption levels, we will be over dependent on foreign imports of the commodity.