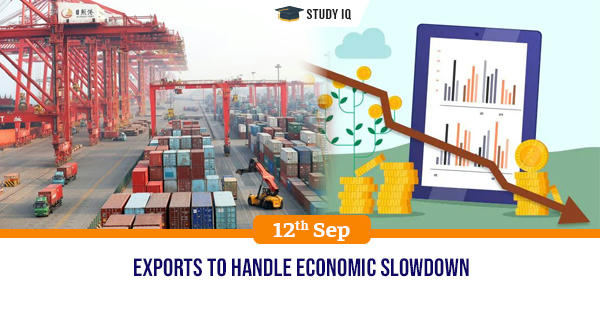 Exports to handle economic slowdown
Date: 12 September 2019
Tags: Miscellaneous
Issue
Slowdown in domestic manufacturing could be negated by fast-tracking exports. As trade windows open due to trade tensions between the U.S. and China, an opportunity is created for Indian exports to the U.S. market.
Background
Ahead of the Union Commerce and Industries Minister's meeting with exporters and importers on September 11 to discuss trade policy instruments, exporters have flagged certain concerns, saying the government should help build large capacity for exports instead of announcing measures only for the MSME sector.
Details
The CII has said that the exporters were at the mercy of foreign shipping lines in the absence of a national shipping line due to which their profits eroded significantly. A national shipping regulatory body should also be formed to determine freight rates.

Remedial measures are needed to protect the huge employment and investments made in SEZs where many units were finding it difficult to carry on their businesses due to some mid-term policy changes. There is also a suggestion for the government to give a one time I-T exemption.

Measures to boost exports includes "full reimbursement " of various imposts on exports and relaxed lending norms to improve credit flow to reverse a slide in the growth of outbound shipments.
Way ahead
For Indian exporters to become competitive, the government needs to ensure that transaction costs are cut drastically, embedded taxes are fully offset, raw materials are made available at reasonable prices and credit is extended at cheaper rates.

Land acquisition needs to be made easier and companies must not be dragged into unnecessary legal hurdles.