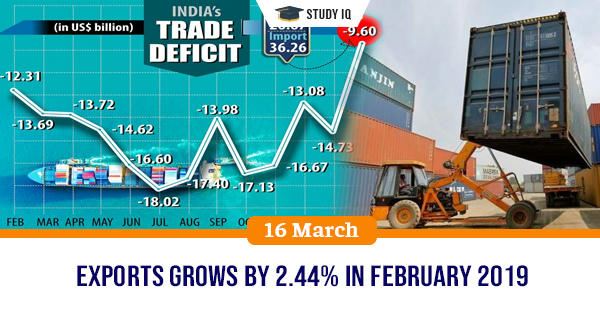 Exports grows by 2.44% in February 2019
Date: 16 March 2019
Tags: External Sector
According to date released by Union Ministry of Commerce and Industries, India's exports grew by 2.44% year-on-year to US $26.67 billion in February 2019. The growth was on account of higher shipments in sectors such as pharmaceuticals, engineering and electronics.
Breakaway of Feb 2019 Import-Export
Imports:

Declined by 5.4% to USD $36.26 billion in February 2019. Decline was mainly on account of sharp decline in inward shipments of gold and petroleum products.

Gold imports (second-largest component of the import bill) declined by about 11% to US $2.58 billion in February 2019 as against US $2.89 billion in February 2018.

Inward shipments of petroleum products (largest component of the import bill) were down by nearly 8% to $9.37 billion.

Non-oil, non-gold merchandise imports contracted by 3.72% to $ 24.30 billion, as compared to fall of 0.8% in January 2019.

Trade deficit:

The gap between imports and exports was US $9.6 billion. It was US $12.3 billion in February 2018.

April-February period of FY 2018-19:

Exports grew 8.85% to $298.47 billion, while imports rose by 9.75% to $464 billion.

Trade deficit has widened to $165.52 billion during 11 months of current fiscal from $148.55 billion compared to the year-ago period.