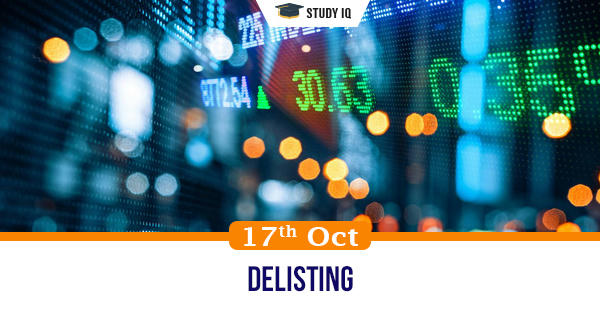 Delisting
Date: 17 October 2020
Tags: Miscellaneous
Issue
Vedanta has announced that it had failed to garner the number of shares required to complete its delisting process from the stock market.
Background
Vedanta fell short of garnering the threshold amount of 90% of shares of the company, even after public records initially showed that offers by shareholders had crossed that threshold.
Details
In the delisting process, the promoters of a company launch a reverse book building process in which shareholders can tender their shares for purchase by promoters at a set price.

The discovered price is the price tendered by shareholders at which the company is able to cross the threshold of 90% stake required to complete the delisting process.

Therefore, the lowest price at which the company can complete the acquisition of 90% of shares is the discovery price.

Foreign shareholders hold shares through a custodian, but custodians are not allowed to participate in the secondary market and therefore bids are tendered by brokers.

This process could be used to artificially reach the 90% threshold in cases where some bidders do not even own the shares, thereby giving a push to smaller shareholders to participate in a delisting process that they believe is likely to succeed.
Delisting
Delisting is the removal of a listed security from a stock exchange. The delisting of a security can be voluntary or involuntary and usually results when a company ceases operations, declares bankruptcy, merges, does not meet listing requirements, or seeks to become private.

Companies must meet specific guidelines, called "listing standards," before they can be listed on an exchange. Each exchange establishes its own set of rules and regulations for listings. Companies that fail to meet the minimum standards set by an exchange will be involuntarily delisted.