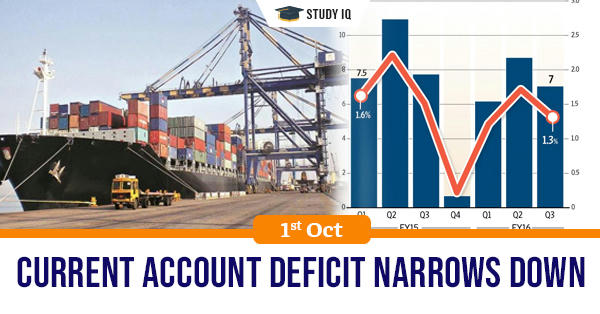 Current Account deficit narrows down
Date: 01 October 2019
Tags: Basics of Economics
Issue
India's current account deficit (CAD) narrowed to 2% of Gross Domestic Product (GDP) during April-June quarter from 2.3% during the same period a year ago according to data released by the Reserve Bank of India.
Background
CAD is one of the key indicators of an economy's health and measures the difference between the value of the goods and services a country imports and the value of its exports.
Details
Net services receipts rose 7.3% year-on-year in quarter ended June due to rise in net earnings from travel, financial services and telecommunications, computer and information services.

Private transfer receipts, an indicator of remittances by Indians employed overseas, grew 6.2% on-year to $19.9 billion.

Healthy growth in the surplus of services and secondary income, as well as lower crude oil prices helped to restrain the size of the current account deficit in Q1 FY2020 (April-June), despite a sharp increase in gold imports.

Net foreign direct investment was $13.9 billion in April-June as compared with $9.6 billion during the same period a year ago.

Net inflow of foreign portfolio investment was $4.8 billion in the quarter ended June as compared to $8.1 billion a year ago, due to net purchases in both debt and equity markets.

The government expect the current account deficit to decline substantially to $10-11 billion in Q2FY20 (July-September) from $19 billion in Q2 FY2019 (July-September), on the back of moderate crude oil prices and a weak demand for gold imports.
Current Account Deficit
A country's current account is one of the two components of its balance of payments, the other being the capital account (also known as the financial account).

The current account consists of the balance of trade, net primary income or factor income (earnings on foreign investments minus payments made to foreign investors) and net cash transfers, that have taken place over a given period of time.

The current account balance is one of two major measures of a country's foreign trade (the other being the net capital outflow).

A current account surplus indicates that the value of a country's net foreign assets (i.e. assets less liabilities) grew over the given period, and a current account deficit indicates that it shrank.

A positive current account balance indicates the nation is a net lender to the rest of the world, while a negative current account balance indicates that it is a net borrower from the rest of the world.