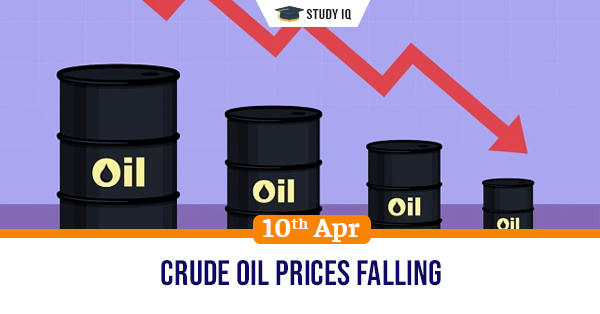 Crude oil prices falling
Date: 10 April 2021
Tags: Miscellaneous
Issue
The price of Brent crude oil has fallen in international market owing to fear of fall in demand due to new travel restrictions.
Background
The crude oil prices were in ascendency till recently as demand for the commodity grew as normalcy was returning.
Details
The growth in Covid-19 cases and the decision by OPEC+ to increase their crude oil output was the main reason for fall in prices.

US data had shown that the production of oil barrels were more than the demand. This is an indication of waning demand.

Countries are unable to make supply cut due to the economics involved. This has forced increased production without actual demand.
Increasing prices
Increase in demand as a result of lower restrictions and increase in vaccine administration programs around the world had pushed crude oil prices.

Key oil-producing countries cut their production in order to keep crude oil prices higher than the current ones.
Impact on India
The fall in international crude oil prices has reversed the trend of increase in price of petroleum products that had reached an all time high.

It is expected that India's import burden decreases a fraction due to lowering of crude oil prices. There are also chances of decrease in inflation rates across the country.