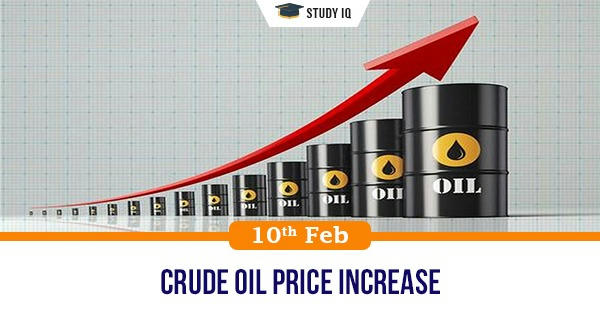 Crude oil price increase
Date: 10 February 2021
Tags: World Economy
Issue
The price of Brent crude crossed the $60 per barrel mark after over a year on the back of oil-producing countries maintaining production cuts.
Details
The price of Brent Crude has risen by over 50 per cent since the end of October after prices had remained around $40 per barrel for five months.

Major oil-producing countries had cut oil production last year amid a sharp fall in demand due to the Covid-19 pandemic.

Major oil-producing countries such as Saud Arabia have been cutting its own oil production by 1 million barrels per day to strengthen crude oil prices.

Expectations of strong improvements in demand with the global rollout of the Covid-19 vaccine have also put upward pressure on crude oil prices.
Impact on India
The rise in the price of Brent crude will lead to an increase in India's import bill. India imports of 80 per cent of its crude oil requirements and the average price of Indian basket of crude oil has already risen to $54.8 barrel for January.

The upward move in crude prices will also put upward pressure on petrol and diesel prices across the country which is already at all-time highs.

The government had hiked central taxes on petrol and diesel by Rs 13 per litre and Rs 11 per litre in 2020 to boost revenues amid lower economic activity.

The increase in taxes had prevented consumers from getting the benefit of low fuel prices as international prices crashed during the first quarter of this fiscal and is now contributing to record high prices as international prices have recovered.
Brent crude
The Brent Crude oil marker is also known as Brent Blend, London Brent and Brent petroleum. This grade is described as light because of its relatively low density, and sweet because of its low sulphur content.

Brent is the leading global price benchmark for Atlantic basin crude oils. It is used to set the price of two-thirds of the world's internationally traded crude oil supplies.

It is one of the two main benchmark prices for purchases of oil worldwide, the other being West Texas Intermediate (WTI).
West Texas Intermediate
West Texas Intermediate (WTI) is a light, sweet crude oil that serves as one of the main global oil benchmarks. It is sourced primarily from inland Texas and is one of the highest quality oils in the world.
Dubai crude
Dubai Crude, also known as Fateh, is a heavy sour crude oil extracted from Dubai. For many years, most of the oil producers in the Middle East have taken the monthly spot price average of Dubai and Oman as the benchmark for sales to the Far East.