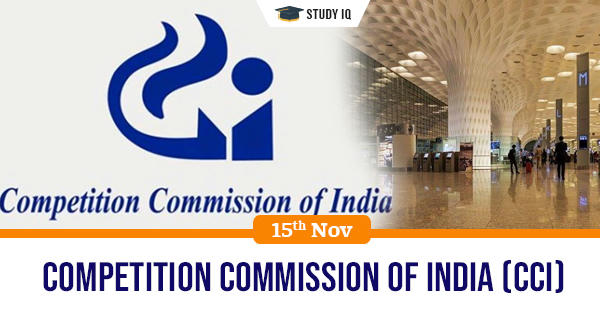 Competition Commission of India (CCI)
Date: 15 November 2019
Tags: Economic Organizations
Issue
Fair trade regulator Competition Commission of India has approved Adani Properties' acquisition of 23.5% stake in the country's second busiest aerodrome Mumbai International Airport.
Details
CCI
Competition Commission of India is a statutory body of the Government of India responsible for enforcing The Competition Act, 2002 throughout India and to prevent activities that have an appreciable adverse effect on competition in India.

It was established on 14 October 2003. The Commission comprises a Chairperson and seven members.

A need was felt to promote competition among private enterprise especially in the light of 1991 Indian economic liberalisation and therefore an idea of Competition Commission was conceived and introduced in the form of The Competition Act, 2002.
Objectives
Make the markets work for the benefit and welfare of consumers.

Ensure fair and healthy competition in economic activities in the country for faster and inclusive growth and development of the economy.

Implement competition policies with an aim to effectuate the most efficient utilization of economic resources.

Develop and nurture effective relations and interactions with sectoral regulators to ensure smooth alignment of sectoral regulatory laws in tandem with the competition law.

Effectively carry out competition advocacy and spread the information on benefits of competition among all stakeholders to establish and nurture competition culture in Indian economy.