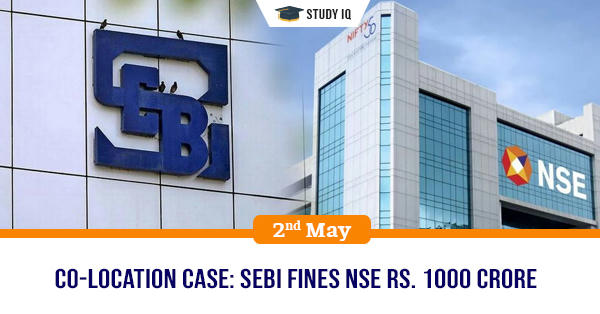 Co-location case: SEBI fines NSE Rs. 1000 crore
Date: 02 May 2019
Tags: Public Finance
Market regulator Securities and Exchange Board of India (SEBI) has barred National Stock Exchange (NSE) from accessing securities market for six months under the SEBI (PFUTP) Regulations. PFUTP stands for Prohibition of Fraudulent and Unfair Trade Practices rules. SEBI also imposed fine of Rs. 1,000 crore on NSE for alleged failing to exercise proper due diligence while offering co-location facility thereby affecting market fairness and integrity.
Co-location: It refers to system wherein broker's server is kept in exchange premises to reduce latency, or delay in computing terms, while executing trades.
Co-location Scam
In 2015, SEBI had received complaints against NSE alleging that system used by NSE for disseminating data through co-location facilities allowed certain users to get information before others. This had create resulted in trading environment in which information dissemination was asymmetric, which was not fair and equitable. This failure of NSE to ensure equal and fair access has resulted fraudulent and unfair trade practice as contemplated under the SEBI (PFUTP) Regulations. Based on this complaint, SEBI has fined NSE and banned for six months. It has also directed former and current top employees in management of NSE to not hold any position in a stock exchange for period ranging from two to three years.