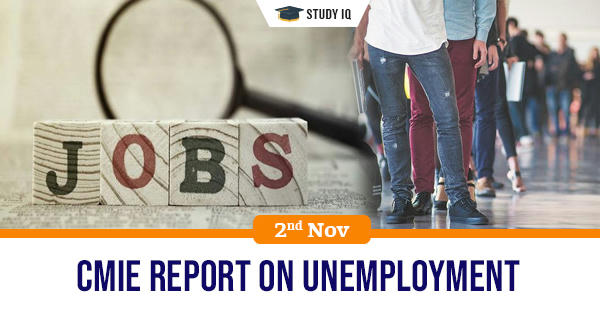 CMIE report on unemployment
Date: 02 November 2019
Tags: Basics of Economics
Issue
India's unemployment rate in October rose to 8.5%, the highest since August 2016, according to data released by the Centre for Monitoring Indian Economy (CMIE).
Background
The unemployment rate is defined as the percentage of unemployed workers in the total labour force. Workers are considered unemployed if they currently do not work, despite the fact that they are able and willing to do so. The total labour force consists of all employed and unemployed people within an economy.
Details
According to CMIE, the urban unemployment rate stood at 8.9%, slightly higher than the rural unemployment rate of 8.3%.

Among States, Tripura and Haryana saw unemployment levels of over 20% (the highest), while Tamil Nadu saw the lowest unemployment rate of 1.1%. Rajasthan saw its unemployment rate double between 2018 and 2019.

The data also comes on the back of other indicators showing a downturn in the economy such as a decline in growth of automobile sales and August's industrial output shrinking at its fastest rate in more than six years.

Researchers estimate that between 2011-12 and 2017-18, employment declined by an unprecedented nine million (2% drop), with agricultural employment declining by 11.5%.

In the same period, employment in the service sector increased by 13.4%, while manufacturing employment dipped by 5.7%.

The data in the paper also shows that while employment has been declining, those who are not in Labour Force, Education and Training have continued to increase.
Types of Unemployment
Unemployment is due to economic frictions arising from changes in employers' demands for different types of labour.
This type of unemployment occurs due to the seasonal nature of some industries. In some industries the demand for goods or services fluctuates seasonally. For example, hotels, restaurants, and ice-cream factories are fully staffed by employees during the summer but many of those workers are laid off during the winter.
Technological unemployment
Im­provements in technology have reduced the demand for labour. In the long run, improvements in technology and the resultant increases in produc­tivity will create jobs by leading to an expansion of the economy.
Some people who are not willing to work but get their names registered with employment exchanges in order to receive com­pensation from the government. This classification also includes those people who are unable to work because of physical or mental disabilities.
This type of unemployment oc­curs due to a change in the structure of the economy. For example, the setting up of large mechanized man­ufacturing units in India led to the decline of handi­crafts.
This form of unemployment arises from the trade cycle and is sometimes referred to as mass unemployment. Cyclical unemployment is characterized by a general deficiency of demand and consequently af­fects all industries at one and the same time, produc­ing widespread unemployment.
In this type, people are hired to work but net productivity from their efforts is zero. There is no benefit from their service.