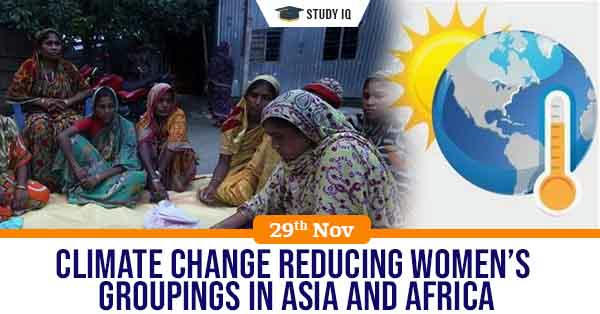 Climate change reducing women's groupings in Asia and Africa
Date: 29 November 2019
Tags: Economic Organizations
Issue
Climate change is taking an especially high toll on women from weak socio-economic backgrounds, according to a new study.
Background
Research led by the University of East Anglia in England used 25 case studies across three "climate change hotspots" in Africa and Asia.
Details
The Asian "hotspots" were in India, Nepal, Pakistan, Bangladesh, and Tajikistan, while the African ones were in Kenya, Ghana, Namibia, Mali, Ethiopia, and Senegal.

These areas face a range of environmental risks such as droughts, floods, rainfall variability, land erosion and landslides, and glacial lake outburst floods.

The predominant livelihoods include agriculture, livestock pastoralism, and fishing, supplemented by wage labour, petty trade, and income from remittances.

Climate change has led to erratic weather behaviour and altered the nature of soil and water, making occupations like farming less sustainable.

As men migrate in search of better work, and since farming can't be totally abandoned, the women stay back, putting in extra labour into an activity that is no longer that productive economically.

Environmental degradation is reducing further the ability of women to make choices and take decisions that can impact their lives positively, including in adapting to climate change.

The women have little control over how the money they earn is spent, or over what kind of crop is planted on the farm. They have to work harder to provide nutritious food to their children.

With the men gone, more women are entering the workforce. But their income is going into ensuring basic survival, and not helping their ability to take significant decisions, and to adapt to climate change.

Women self-help groups (SHGs) are often limited in number and lack the needed capacity, skills and opportunities to be effective and sustainable, especially where individual women and groups are dependent on natural resource systems for livelihood.

Though membership of an SHG often acts positively for women's agency, it does not necessarily translate into decision-making authority outside the SHGs and within their homes.

However, the study says some government measures, such as the public distribution system (PDS) for food grains in India, or pensions and social grants in Namibia, do grant women more agency, by taking care of basic survival and giving them more spending power.
Self Help Groups
A self-help group is a financial intermediary committee usually composed of 25 to 40 local women or men. Members also make small regular savings contributions over a few months until there is enough money in the group to begin lending. Funds may then be lent back to the members or to others in the village for any purpose.
They pool their resources to become financially stable, taking loans from their collective savings in times of emergency or financial scarcity, important life events or to purchase assets.