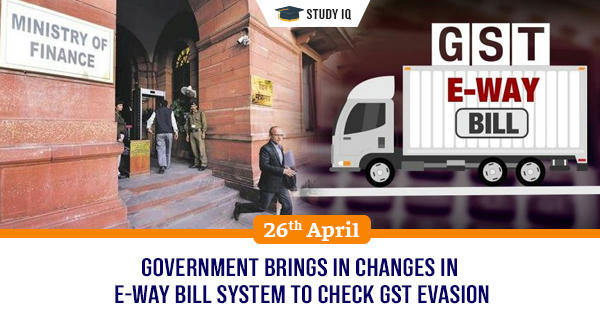 Government brings in changes in e-way bill system to check GST evasion
Date: 26 April 2019
Tags: Public Finance
Union Finance Ministry (Revenue Department) has introduced changes in e-way bill system to curb malpractices and check evasion of Good and Services Tax (GST). These changes come after Finance Ministry had detected instances of malpractices in e-way bill generation causing loss to state exchequer.
Changes made in e-way bill system
Auto-calculation of distance between source and destination, based on PIN codes. The user will be allowed to enter actual distance as per movement of goods, which will be limited to 10% more than the auto calculated distance displayed.

Blocking generation of multiple e-way bills based on one invoice. This means that if e-way bill is generated once with particular invoice number, then none of parties consignor, transporter or consignee can generate another e-way bill with the same invoice number.

Transporters of goods worth over Rs. 50,000 will be required to present e-way bill during transit to GST inspector, if asked. Failure to produce e-way bill can attract penalty.

The e-way bill portal developed by National Informatics Centre (NIC) will also generate a report for users on the list of e-way bills about to expire. This will help user to analyse data and ensure that goods reach destination within valid time period.
GST E-Way Bill (Electronic way bill)
It is electronic documentation detailing movement of goods under GST regime. It has to be carried by transporters for any consignment exceeding Rs. 50,000 in value.

It must be raised before shipping of goods. It should include details of goods, their consignor, recipient and transporter.

It can be generated from GSTN set up for e-way bill system by transporter before the movement of goods begins.

It was made mandatory from April 1, 2018 for all inter-state transport of goods valued above Rs 50,000 and later for moving goods within state.

It purpose is to reducing transit delays check-posts have been abolished under GST regime and serve as anti-tax evasion measure as it will allow tax authorities to easily tracj tax evaders from underreporting transactions.

Validity of e-way bills:

It varies depending on distance that goods have to travel. Typically, it is valid for one day for every 100km of movement of goods.

Goods excluded:

It is not needed for perishable items (such as meat, fruits and vegetables and milk and milk products), cooking gas cylinders, raw silk, wool and handlooms and gold and silver jewellery.

Penalty for violation:

If consignment is found without e-way bill, Rs. 10, 000 penalty or tax sought to be evaded, whichever is greater, can be levied.