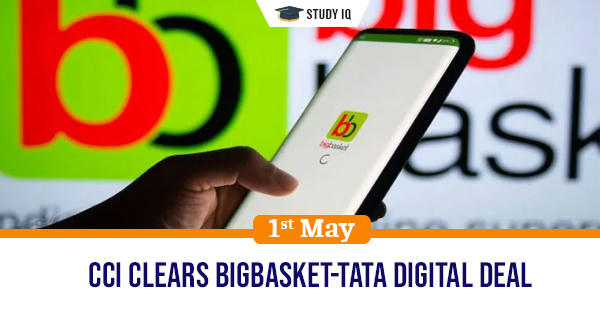 CCI clears BigBasket-Tata digital deal
Date: 01 May 2021
Tags: Miscellaneous
Issue
The Competition Commission of India has approved Tata Digital to acquire online grocery deliver platform BigBasket.
Background
The value of the deal is about $1 billion. It will put to an end to the speculation running from the past six months.
Details
Tata digital will get control over the B2B unit of BigBasket by acquiring 64.3% of Supermarket Grocery Supplies Pvt Ltd. The B2C unit Innovative Retail Concepts Pvt Ltd will also be completely taken over.

Tata has a large presence in various consumer goods such as electronics, fashion etc through TataCliq but is yet to enter grocery business.

It will provide BigBasket the necessary power to compete with industry leaders such as Reliance Mart, Filpkart and Amazon.
The e-grocery market
The e-grocery segment is worth $300 billion. It received a boost during the current Covid crisis but is yet to penetrate more than 1 percent of grocery space in India.

The total e-grocery segment size has grown rapidly from $1.2 billion at the start of 2020 to about $3 billion at the end.

Other major and minor players in the e-grocery segment include Amazon, Reliance Mart, Flipkart, Grofers, Milkbasket, Nature's basket, Easyday etc.