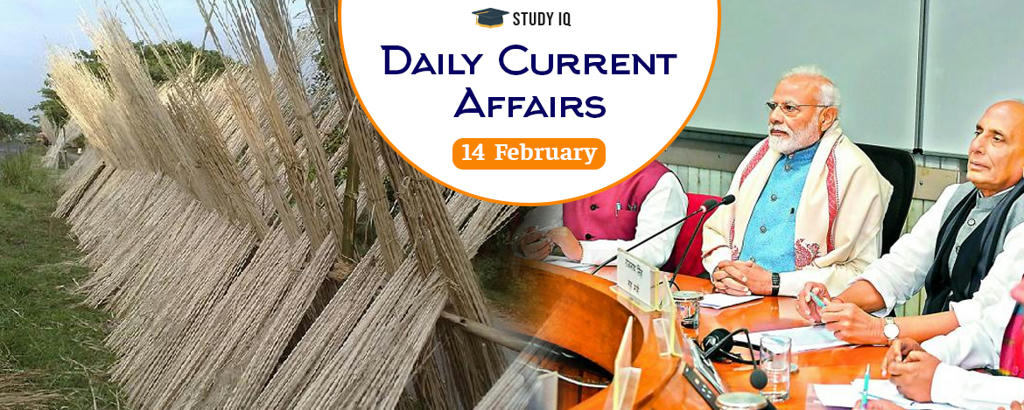 Cabinet hikes MSP of Jute
Date: 14 February 2019
Tags: Miscellaneous
Cabinet Committee on Economic Affairs (CCEA) chaired by Prime Minister has increased Minimum Support Price (MSP) of Raw Jute for 2019-20 season. This decision was taken based on recommendations of Commission for Agricultural Costs and Prices (CACP). Jute Corporation of India (JCI) will continue to act as central nodal agency to undertake price support operations at the MSP in Jute growing states.
Factors taken into considerations
CACP, before recommending MSP hike for raw Jute, has taken into account cost of production, overall demand-supply, inter-crop price parity, domestic and international prices.

It also took account terms of trade between agricultural and non-agricultural sectors and likely impact of MSP on user industries and minimum 50% as margin over weighted average cost of production.
Impact of increased MSP
It is expected to ensure appropriate minimum prices to farmers

It will yield returns of 55.81% over all India weighted average cost of production.

It will step up investment in Jute cultivation and thereby production and productivity in the country.
Jute
It is one of the important natural fibers after cotton in terms of cultivation and usage. It is long, soft, shiny vegetable fiber that can be spun into coarse, strong threads.

It grows in plain alluvial soil and standing water. It is rain-fed crop and monsoon climate is most suitable for growing it. Soft water is necessary for jute production

Ganges Delta account for almost 85% of world's jute cultivation. India is largest producer or cultivator of jute in the world (accounting for 60%) followed by Bangladesh and China.

India's top jute producing states are West Bengal (alone accounts for 50% production) followed by Bihar, Assam and Odisha.

Nearly 40 lakh farmers and 3.7 lakh workers in jute mills are dependent for their livelihood on jute sector.
Government support
Jute sector in India is predominantly dependent on Government support which purchases jute products more than Rs. 6,500 crores every year.

Government has been making concerted efforts for development of this sector considering dependency large of population for their livelihood on jute sectors.

It also has expanded scope of mandatory packaging norms using jute under Jute Packaging Material (JPM) Act, 1987.