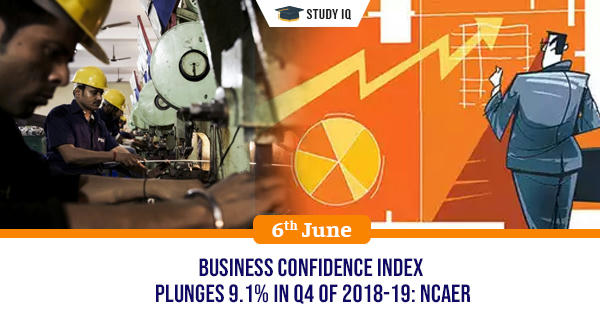 Business Confidence Index plunges 9.1% in Q4 of 2018-19: NCAER
Date: 06 June 2019
Tags: Economic Organizations
According to recent survey by National Council of Applied Economic Research (NCAER), business confidence index (BCI) of India Inc dropped in the fourth quarter (Q4)- January to March- of the financial year 2018-19 (FY19). But, political confidence index (PCI) of businesses was up 12.1% in Q4 on a quarterly basis.
Business Confidence Index (BCI)
It is indicator of business sentiments across the Indian industry segments. It is compiled by NCAER and itracks the business sentiments of around 600 Indian companies.

It is made up of four components, all of which have equal weight in the computation of the index. They are (i) Overall economic conditions will be better in next six months. (ii) Financial position of the firms will improve in next six months, (iii) present investment climate is positive, and (iv) Present capacity utilisation is close to or above optimal level.

BCI for Q4 FY 2018-29:

It plunged 9.1

%

to reach 115.4 points during the period on a quarter-on-quarter (q-o-q) basis. On a year-on-year (y-o-y) basis, it was down 12.2

%

. It declined in all the sectors on a q-o-q basis, signaling pervasive worsening of business sentiments. BCI of consumer durables and consumer non-durables sectors declined by 12.1 and 15.9

%

, respectively on a q-o-q basis.
Besides, all the four regions also showed a decline in BCI figures on q-o-q basis between January and April 2019, with East showing steepest fall by 17.3

%

. The magnitude of decline in BCI in west, north and south were 8

%

, 3.6

%

and 8.7

%

, respectively.
Political confidence index (PCI)
It measures businesses' expectations from government on managing economic growth, maintaining conducive political environment and pushing economic reforms, among other yardsticks.
About National Council of Applied Economic Research (NCAER)
It is one of the oldest economic think-tank in India. It was set up in 1956 at the behest of then Prime Minister Jawaharlal Nehru to inform policy choices for both the public and private sectors. It was established with financial support from Ford Foundation, Finance Ministry and Tata Sons. Infosys co-founder Nandan Nilekani is current president of its governing body and Dr Shekhar Shah is its current director general.