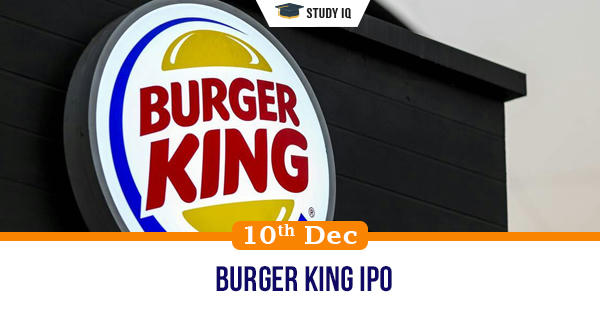 Burger King IPO
Date: 10 December 2020
Tags: Miscellaneous
Issue
The allotment status of Rs 810-crore initial public offer (IPO) of Burger King India was announced on December 9.
Background
With an over-subscription of 157 times, the IPO became the second-most subscribed offer, after Mazagon Dock Shipbuilders, in calendar year 2020.
Details
BKIL has reported losses in FY18, FY19, FY20, and H1FY21, the company has negative retained earnings of Rs 462 in H1FY21 which has resulted in erosion of substantial portion of its other equity.

The company may incur losses in future as well. However, BKIL's target to open 700 restaurants by Dec'2026 is the key driver to the business.

Besides, the changing lifestyle and the eating habits of the youngest millennial population of India will further drive the revenue of BKIL.
IPO
An initial public offering (IPO) refers to the process of offering shares of a private corporation to the public in a new stock issuance. Public share issuance allows a company to raise capital from public investors.

IPOs provide companies with an opportunity to obtain capital by offering shares through the primary market.

Companies hire investment banks to market, gauge demand, set the IPO price and date, and more.

An IPO can be seen as an exit strategy for the company's founders and early investors, realizing the full profit from their private investment.