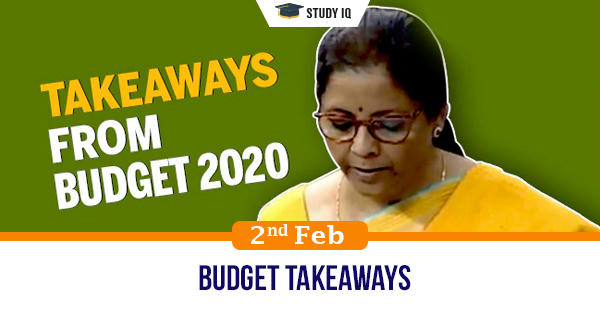 Budget takeaways
Date: 02 February 2021
Tags: Miscellaneous
Issue
Finance Minister Nirmala Sitharaman has presented the annual financial budget for 2021-2022.
Details
Disinvestment
Two public-sector banks and one state-owned general insurance company to be lined up for disinvestment. FDI in insurance to be hiked to 74% from 49% now.
No populism
Despite being a tough year for people, the FM has avoided giving any income tax relief. No increase in standard deduction, no raise in the tax slabs.
Healthcare
Health allocation jumped 137% to Rs 2, 23,846 crore in 2021-22 compared with Rs 94,452 crore in 2020-21. She provided Rs 35,000 crore for the Covid-19 vaccine, and promised to provide further funds, if required.
Bad banks
The government has finally decided to set up an asset reconstruction company that will take over the bad loans of banks, giving them flexibility to finance the economic recovery.
Development Finance Institutions (DFI)
To provide debt to long gestation projects, a new DFI with a capital of Rs 20,000 crore will be set up. It will have statutory backing, but will be professionally managed.
Fiscal deficit targets
Fiscal deficit estimated at 6.8 percent of GDP in 2021-22; it is estimated to touch 9.5% in 2020-21. It will be brought down to 4.5 percent of GDP by 2025-26.