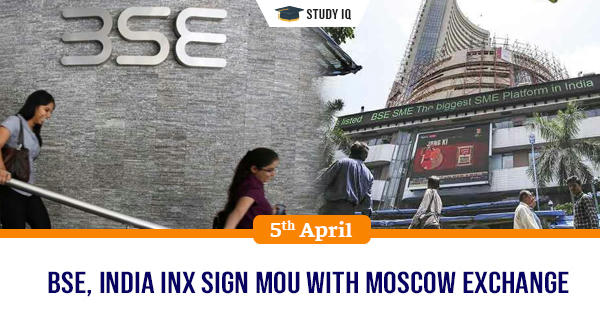 BSE, India INX sign MoU with Moscow Exchange
Date: 05 April 2019
Tags: Economic Organizations
BSE and India International Exchange (India INX) became the first Indian exchanges to sign MoU with Moscow Exchange (MOEX) to connect investor community and companies in both countries besides allowing a capital formation platform.
The three exchanges have mutual understanding of each other's market in the premise of a bi-lateral investment. This MoU is expected to lead to enhance understanding of activities in each other's market.
Under this MoU
They will also collaborate together to facilitate the development of channels of communication. They will also conduct joint research to explore possibility of further cooperating in area of cross-listing of derivative products, dual listing, exchange traded fund (ETF) and fixed income product cooperation.

These exchanges will use India-Russia Initiative as important portal for professional intermediaries in both markets to share their know-how and expand their client network in their home market and abroad.

It will allow India-Russia Initiative uses to have access to community of professional intermediary networks to benefit their development and cross-border operation, according to an official statement.
Bombay Stock Exchange (BSE)
It is the oldest stock exchange in Asia established by eight native stock brokers association in 1875. It is ocated at Dala street, Mumbai. At present, it is 10th largest stock market in the world by market capitalization at $1.7 trillion and has more than 5,000 companies listed in it.
India International Exchange (India INX)
It is India's first international exchange located at IFSC Gujarat International Financial Tech (GIFT) City in Gandhinagar district of Gujarat.
It is wholly-owned subsidiary of BSE. It trades in equity derivatives, currency derivatives, commodity derivatives including Index and Stocks. It also offers depository receipts and bonds.
It is one of world's most advanced and fastest trading technology platforms with turn-around time of 4 micro seconds. It operates for 22 hours in a day, which allows international investors and NRIs to trade from anywhere across globe.