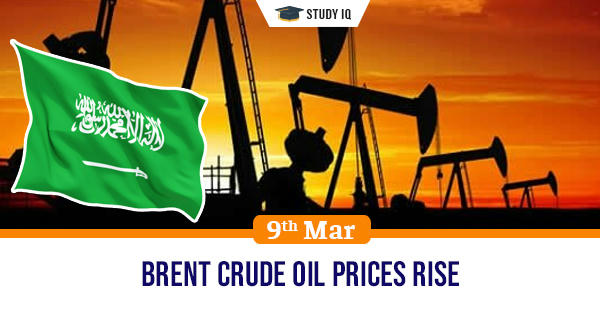 Brent crude oil prices rise
Date: 09 March 2021
Tags: Miscellaneous
Issue
Security issues in Saudi Arabia have pushed prices of Brent crude oil above $70 per barrel.
Details
Saudi Arabia has informed that world's largest crude exporting complex of Ras Tanura was attacked by drones from the sea.

Saudi has accused Houthi rebels of Yemen as the perpetrators of the attack. The attack did not damage the facility but has created fears among oil traders regarding oil availability.
Impact on India
Indian consumers are expected to face another hike in prices as unstable situation is expected to inflate prices.

The fuel prices in India have already skyrocketed and the pinch has been felt by all sectors across economic spectrum.

The selling price of fuel in India is based on the international prices of the petroleum products as well as state and central taxes.

Oil companies in India have raised the price of fuels sharply as crude oil prices rose from $40 per barrel to $66 per barrel.

Consumers across the globe are at the receiving end of sharp prices but Indian consumers are impacted immensely due to hike in taxes on the fuel.

While some states have cut their share of taxes on fuels, the centre is yet to reduce its share of excise duty on these products.
Excise duty
Central Excise duty is form of indirect tax on goods manufactured in India. The goods defined under Central Excise Tariff Act are liable to be taxed.
Houthi rebels
Houthis are a Shiite rebel group operating in Yemen. They are considered an insurgent group by Saudi Arabia and its western allies.

Houthis are said to be behind various attacks on western properties in the Gulf of Aden region.