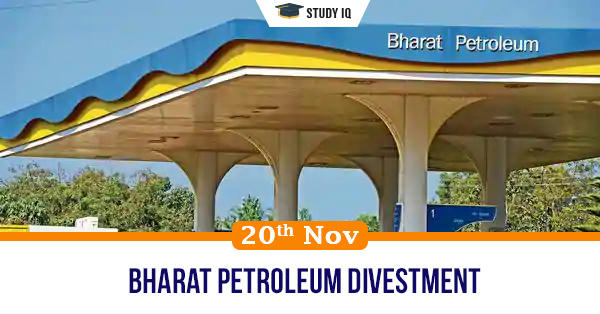 Bharat Petroleum divestment
Date: 20 November 2020
Tags: Miscellaneous
Issue
The disinvestment process of Bharat Petroleum Corporation Ltd has moved on to the second phase, with the government receiving multiple expressions of interest for its stake.
Details
Currently, only the Vedanta Group has been confirmed as an interested party. Experts noted that given the low level of participation BPCL was likely to result in a low valuation.

Impact of the Covid-19 pandemic and subsequent crash in global crude oil prices has put a strain on the finances of most global oil majors. The price of crude oil fell sharply as a result of the fall in the demand for petroleum products.

Planned investments by Saudi ARAMCO into Reliance Industries and the Ratnagiri refinery complex have seen delays.

The government may rope in other public sector undertakings like ONGC and Indian Oil to participate in another round of bidding for BPCL if it doesn't receive a high enough valuation.

Under the terms of the current bidding process, PSUs were not been permitted to participate in BPCL's disinvestment process.

If a combination of ONGC and IOC acquire the government's stake in BPCL at a higher premium than what is being offered by private sector players, they would likely witness a decline in their share prices.

It is not likely that the government would put off the disinvestment process of BPCL because of a lack of interest as it needs the proceeds from the sale to shore up its fiscal deficit.
Divestment
Divestment is the process of selling subsidiary assets, investments, or divisions of a company in order to maximize the value of the parent company.

Divestment is effectively the opposite of an investment and is usually done when that subsidiary asset or division is not performing up to expectations.
Strategic sale
Strategic disinvestment is transferring the ownership and control of a public sector entity to some other entity (mostly to a private sector entity).

It involves selling of 50% of stake or such higher percentage as the competent authority may determine, along with transfer of management control.