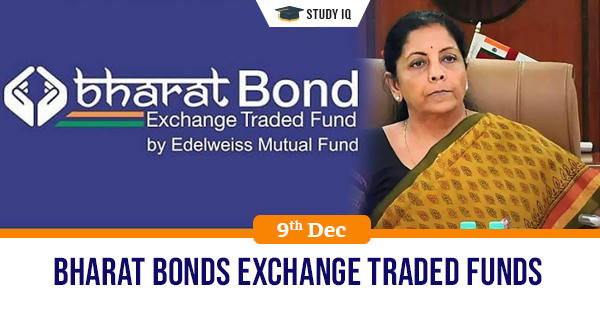 Bharat Bonds Exchange Traded Funds
Date: 09 December 2019
Tags: Public Finance
Issue
The Union Cabinet has recently approved launching a bond ETF (Exchange Traded Fund). Called the Bharat Bond ETF, this fund will track the index comprising debt securities of Public Sector Undertakings with the highest credit rating.
Background
ETFs are passively managed mutual funds that aim to generate a similar return as that of the index they follow. ETFs are traded on the BSE and NSE.
Details
Unlike existing ETFs in India, the Bharat Bond ETF will have a defined maturity date just like bonds and fixed maturity plans of mutual funds. On maturity, investors will get the investment proceeds along with returns.

Edelweiss MF is launching two series of Bharat Bond ETFs, one matures in April 2023 and the other after 10 years (ie April 2030). Only growth option is offered here.

These ETFs will invest only in AAA-rated bonds issued by PSUs maturing on or before the maturity of the ETFs.

The ETF will hold the bonds till maturity and coupons received from those bonds will be reinvested in the fund. Post the NFO period, ETF units will be listed on NSE and BSE.

Through demat accounts, investors can buy and sell units at the prevailing market prices.

Edelweiss MF charges an expense ratio of 0.0005%, one of the lowest in India, for managing the Bharat Bond ETF. A lower expense ratio helps earn higher returns than a scheme with a higher expense ratio.

Liquidity in an ETF is mostly determined by corpus and market makers. Normally, a large asset size in an ETF implies the likelihood of more active trading in the exchanges. SEBI has mandated multiple market makers for these ETFs to ensure liquidity.
Benefits
Bharat Bond ETFs provide a good opportunity to retail investors to participate in the corporate debt market while taking the lowest credit risk.

The yields offered in these ETFs are more or less equal to the rates offered by the PSU banks on their deposits of similar tenure.

Bharat Bond ETFs are treated at par with debt mutual funds where the sale of units after 36 months from the date of purchase qualifies for long term capital gains tax.
Challenges
Any deterioration of credit quality of the bonds held in the basket of the index may lead to capital erosion for investors.

Considering the higher allocation to a few issuers, investments may also be exposed to concentration risk. One needs a demat and broker's account to transact in the ETFs.
Mutual Funds
A mutual fund is a professionally managed investment fund that pools money from many investors to purchase securities. These investors may be retail or institutional in nature.
Mutual funds give small or individual investors access to diversified, professionally managed portfolios at a low price.