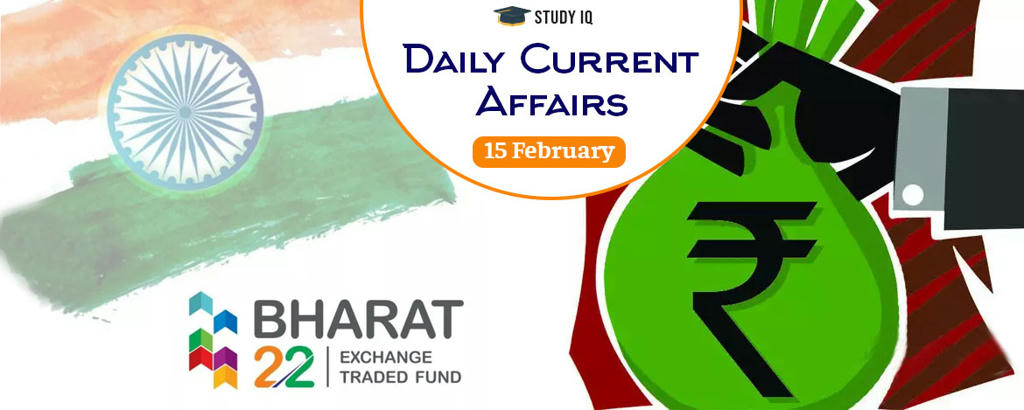 Bharat 22 ETF subscribed over 10 times
Date: 15 February 2019
Tags: Miscellaneous, Public Finance
The second follow-on issue of Bharat 22 Exchange Traded Fund (B22ETF) received about Rs. 40,000 Crore and was subscribed over 10 times of base issue size which was fixed at Rs. 3,500 Crore. Government has decided to retain approximately Rs. 10,000 Crore as its divestment proceeds. Since its launch in November 2017, Government has raised Rs 22,900 crore through B22ETF in two tranches.
Bharat 22 Exchange Traded Fund (B22ETF)
B22ETF is passively managed fund that tracks S&P BSE Bharat 22 index. ICICI Prudential is its ETF Manager and Asia Index Private Ltd. Is its Index Provider.

It was launched by Union Finance Ministry to meet some part of its disinvestment target of Rs. 80,000 Crore in current fiscal. It is second ETF launched by Union Finance Ministry, first was CPSE ETF's 10.

It has total 22 stocks spread across six sectors viz. basic materials, energy, finance, industrials, FMCG and utilities with 20% cap on each sector and 15% cap on each stock.

It is well-diversified ETF as it spans across six sectors. Sector wise weightage is basic materials (4.4%), energy (17.5%), finance (20.3%), FMCG (15.2%), and utilities (20%) and industrials (22.6%).

It has three stocks of private sector companies viz. Axis Bank, ITC and Larsen & Toubro (L&T), which account for 44% of total investment.

All other stocks are of public sector entities, including ONGC, IOC, SBI, BPCL, Coal India and Nalco.

The banking segment includes stocks from State Bank of India (SBI), Bank of Baroda (BoB), Axis Bank, Indian Bank, Power Finance Corporation and Rural Electrification Corporation.

The energy segment includes Oil and Natural Gas Corporation (ONGC), Bharat Petroleum (BP), Indian Oil Corporation (IOC) and Coal India Limited (CIL).
Exchange-traded fund (ETF)
It is essentially index funds that are listed and traded on exchanges like stocks. It is basically basket of securities that are traded, like individual stocks, on an exchange.

Each stock in it is assigned weights that reflects composition of index. It is similar to mutual funds in certain manner but is more liquid as it can be sold quickly on stock exchanges like shares.

Its trading value is based on net asset value of underlying stocks that it represents. Its price changes daily as it is traded throughout day.

It owns underlying assets (shares of stock, bonds, foreign currency, etc.) and divides ownership of those assets into shares.

Benefits:

Trading through ETF route is considered as safer mode of disinvestment as it shields investors against stock market volatility. Its shareholders are entitled to proportion of profits, such as earned interest or dividends paid. It enables investors to gain broad exposure to entire stock markets or specific sectors with relative ease.