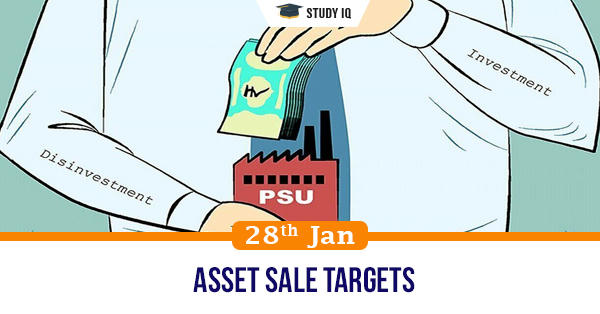 Asset sale targets
Date: 28 January 2021
Tags: Basics of Economics
Issue
Finance Minister Nirmala Sitharaman created a surprise when she announced a disinvestment target of Rs 2.1 lakh crore.
Background
The size of target was three to four times the usual targeted amount. Given its size, it was a vital element in the government's strategy to keep its fiscal deficit under check.
Details
The Union government invests in several public sector undertakings (PSUs) such as Air India, Bharat Petroleum, Delhi Metro Rail Corporation etc.

Since it is the majority shareholder (meaning that it owns more than 51% of the shares), the Centre can raise money through the liquidation of its shareholding in these PSUs.

Such asset sales can either reduce the government's share or it can also transfer the ownership of the firm altogether to the highest bidder.
Reasons for disinvestments
One is to improve the overall efficiency of their functioning. As PSUs, they are managed by the government on a daily basis. But in doing so, there are chances of political considerations overshadowing economic and corporate interests.

By disinvesting (or reducing the government stake), an attempt is made to make such a PSU more efficient as it would not be accountable to people and entities other than the government.

The underlying hope is that private or corporate ownership will result in more efficient management.

The second factor is the government's need to plug its deficit. Indian governments perennially run budget deficits. It is unable to meet its expenditures just from its tax revenues.

In times of extreme monetary stress, governments have thought of selling off their stake in PSUs to raise funds and meet the gap between its expenses and revenues.

Post-liberalisation, reducing government stake, especially in sectors where government presence is not necessary, disinvestment is welcomed.

With the proceeds of these sales, the government can reduce its debt liabilities and raise money for investments in other parts of the economy — such as building infrastructure or increased spending on providing welfare to the poor and needy in the country.
Generation of revenue
The Department of Investment and Public Asset Management (DIPAM) under the Ministry of Finance is tasked with managing the Centre's investments in the PSUs. Sale of the Centre's assets falls within the mandate of DIPAM.

Each year, the Finance Minister sets a "disinvestment target". Accordingly, bids are invited, or public offerings are made and the PSU is privatised partially or fully.
Disinvestment
Disinvestment is the action of an organization or government selling or liquidating an asset or subsidiary.

Disinvestment also refers to capital expenditure (CapEx) reductions, which can facilitate the re-allocation of resources to more productive areas within an organization or government-funded project.

Disinvestment is carried out for a variety of reasons, such as strategic, political, or environmental.