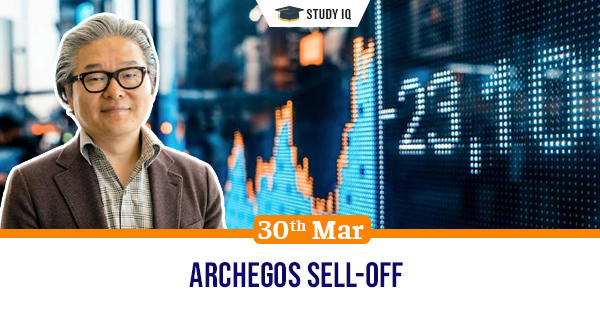 Archegos sell-off
Date: 30 March 2021
Tags: Miscellaneous
Issue
The fire sale of stocks belonging to Archegos assets has caused concerns in global financial markets.
Background
The huge margin call on Archegos was the major reason for steep sell-off that hit several global bank balance sheets.
Details
Archegos Capital Management was involved in fire sale of stocks worth $20 billion which resulted in big drops in the prices of shares of companies linked to the investment firm.

Its main creditors, Credit Suisse and Nomura have faced loss due to transactions caused as a result of fire sale.

The price of share of Archegos began to tumble lately and the decline forced the prime brokers to sell the shares at low margins.
Loss to banks
Credit Suisse faced loss to the tune of $3bn and $4bn. Deutsche Bank also faced losses but it was comparatively lower.

Shares of Nomura were down by 16.3%. Credit Suisse shares went down by 13.4%. Shares of Deutsche Bank and UBS also fell.
Margin call
A margin call takes place when the value of a margin account falls below the account's maintenance margin requirement.

A margin call usually indicates that the securities held in the margin account have decreased in value.

During a margin call, investor should either choose to deposit more money in the account or sell some of the assets from their account.

If the investor is not able to pay up margin amount, the lender will sell assets lying in the investor's account.