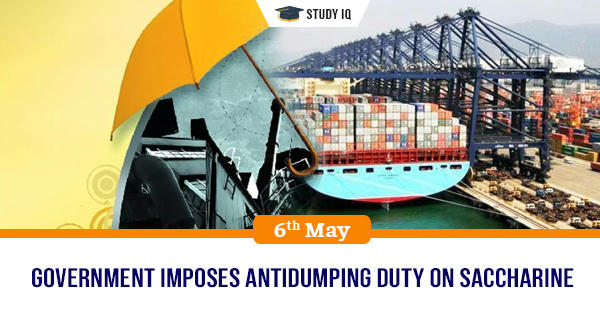 Government imposes antidumping duty on Saccharine
Date: 06 May 2019
Tags: External Sector
Department of Revenue under Ministry of Finance has imposed anti-dumping duty of $1,633.17 per tonne on the import of saccharine from Indonesia. It was imposed based on based on recommendation of Directorate General of Trade Remedies (DGTR) under Ministry of Commerce and Industries to safeguard domestic players against cheap shipments.
Reasons for imposition of Anti-dumping Duty
DGTR in its probe had found that saccharine was exported to India from Indonesia below their normal values and consequently, causing suffering to India's domestic industry. Indonesia, until recently, accounted for large chunk of India's saccharine imports. In April 2018 to February 2019 period, India imported 20% of its total saccharine imports from Indonesia.
Saccharin
It is artificial, or non-nutritive, sweetener. It is most commonly used in sugar-substitute sweeteners. It is used to sweeten products such as drinks, candies, cookies, and medicines. It is 200 to 700 times sweeter than sucrose (table sugar). It has 'calorie-free' status i.e. does not raise blood sugar levels and like all non-nutritive sweeteners has no calories. It is unstable when heated but does not react chemically with other food ingredients, which makes it good for storage.
Anti-Dumping Duty
It is import duty imposed by government as protectionist and counter import measure on imported products which have prices less than their normal values or domestic price. It is imposed under multilateral World Trade Organisation (WTO) regime to protect its domestic producers and market from below-cost/cheap imports
It is aimed at ensuring fair trading practises and create level-playing field for domestic producers with regard to foreign producers and exporters. In India, anti-dumping duty is imposed by Finance Ministry (Revenue Department) based on is recommendation of Ministry of Commerce (i.e. by DGTR).