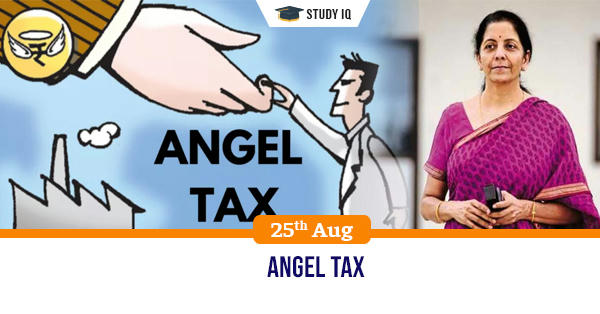 Angel Tax
Date: 25 August 2019
Tags: Economic Reforms
Issue
Finance minister Nirmala Sitharaman has allowed startups registered with the Department for Promotion of Industry and Internal Trade (DPIIT) to be exempted from angel tax, an anti-evasion provision in the Income Tax Act.
Background
Angel tax has often been touted by the startup community as an unfair tax burden affecting young companies and their financial backers. The measures announced are expected to address these issues.
Mesures announced
Local tax authority in India does not recognize the discounted cash flow method that many investors use to value early-stage startups, and instead value the company for its worth currently. This will result in over estimation of company's assets and higher taxation.

Under new provisions tax shall not be applicable to startups registered under DPIIT.

To mitigate genuine difficulties of startups, the Centre will set up cell led by member of CBDT for addressing problems of startups. Startups with an I-T issue can approach this panel.
Perpetual benefits of reforms
Removal of angel tax will go a long way in building trust and confidence in the startups and the investors, and shows government's resolve towards ease of doing business in India and encourage entrepreneurship.

Simplify the flow of risk capital for young companies will allow early-stage ventures to raise seed capital.

The decision to fast-track GST refunds within 30 days and CBDT's move towards setting up a dedicated cell to address tax problems will further ease business environment.
Way forward
The government needs to make similar tax provisions for friends and families that are not categorized as angels and have backed startups simply without any urge for profits. These startups are not DPIIT registered. This is common in smaller cities.