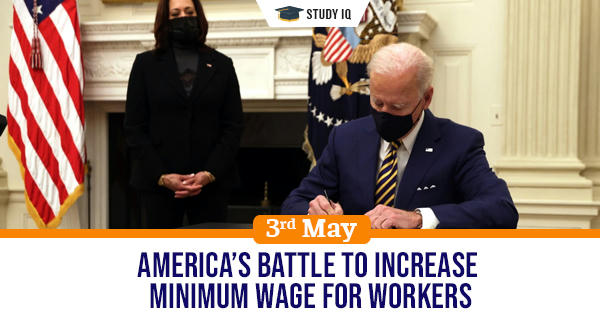 America's battle to increase minimum wage for workers
Date: 03 May 2021
Tags: Miscellaneous
Issue
The President of United States, Joe Biden has signed an executive order that will make paying $15 per hour compulsory to all contractors by government agencies as minimum wage.
Background
The move is part of Joe Biden's agenda to make legislation to provide higher minimum wages across the country.
Details
The current minimum wage for federal agencies is $7.25 per hour and has not been increased since 2009.

The efforts by Biden to include this measure under his $1.9-trillion Covid-19 relief bill was rejected by the senate citing non-qualification under special budget rules.

Many US states have already raised minimum wages but increasing it at federal level is challenging. However, about 67 percent of Americans support the move.
Political challenges
The US policies are dependent on political support rather than economic beliefs. There was similar plan during the second term of President Obama but was not supported by Republican controlled Senate.

After Republicans gained control of the second house too, the Democratic Party announced its support for increasing the minimum wages during its National convention.

It is believed that organisations such as National Federations of Independent Businesses, the National Restaurant Association and the US Chamber of Commerce are against the move as it will impact their business.

They have been lobbying hard to prevent such legislation from being implemented. Their financial support to Republicans is a measure to prevent the move.
Arguments in favour of the move
The cost of living has gone up but the wages obtained by an individual has been stagnant. This has impacted their ability to pay rents and bills.

Increasing the minimum wages to $ 15 will increase the salary of about 32 million American citizens. It can promote higher spending and economic growth.
Possible impact
Raising the wages is expected to result in loss of about 1.4 million jobs as companies will shift towards automation and hire more skilled workers.

It is also likely to affect small businesses that have been impacted by the pandemic and will be under tremendous financial strain.

Companies will also increase cost of their product to adjust to the wage rise. This will ultimately put strain on consumers and tax payers.