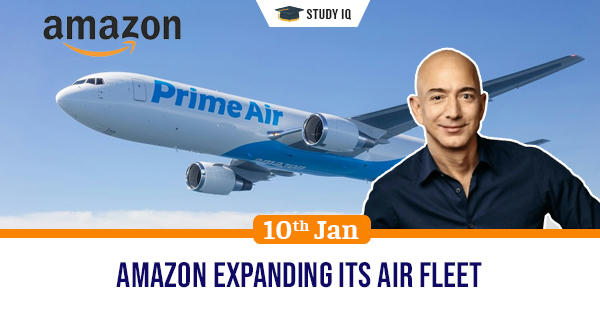 Amazon expanding its air fleet
Date: 10 January 2021
Tags: World Economy
Issue
E-commerce giant Amazon has purchased its first fleet of planes in a bid to expand its air cargo operations and delivery network.
Background
While the company launched its air operations in 2016, all of its planes were leased at the time. It has invested heavily to bring in new fleet of planes.
Details
Amazon had announced that it had bought four planes from WestJet Airlines and seven from Delta Air Lines.

The planes are in the process of being converted to hold cargo instead of passengers. While the four WestJet flights will join the company's fleet this year, the seven from Delta are expected to enter its air cargo network in 2022.
Significance
The e-commerce platform's bid to expand its air network points at its wider plans to shift its deliveries in-house and become a major player in the transportation sector.

It could lead to lower overall lifetime costs, greater control over the speed, reliability, and quality of service. It could cement its place as a genuine player in the competitive world of air freight.

As its air fleet continues to grow, some experts warn that the company could pose a significant threat to its delivery partners.
Reasons for buying
Amazon purchased the planes at a time when the airline industry is struggling to stay afloat as aircraft costs plummet and ticket sales are on the decline due to travel restrictions induced by the Covid-19 pandemic.

Amazon has been building up its own delivery operation, both in the air and on ground, in an effort to speed up its delivery of packages, particularly in the case of its Prime service.