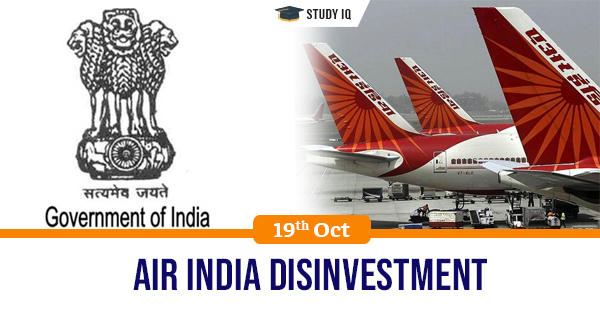 Air India disinvestment
Date: 19 October 2019
Tags: Public Finance
Issue
The government has issued fresh proposals for carrying out the disinvestment process of its national carrier, Air India, which has been making losses from a long time.
Background
In the previous disinvestment process of Air India, not a single bid was received and some of the main reasons listed for the lack of interest were the high debt-level of the airline and government's plan to hold 23 percent stake in the disinvested entity.
Details
At present, the special purpose vehicle, Air India Asset Holdings Ltd, has raised around Rs 22,000 crore through issue of bonds that will be used to repay the existing debt of the airline that stands at about Rs 58,000 crore.

Air India management is also holding meetings with its trade unions on the proposed privatization of the loss-making carrier.A majority of its unions are opposed to the move, fearing job losses.

Disinvestment
Disinvestment means to sell off certain assets such as a manufacturing plant, a division or subsidiary, or product line. Disinvestment is sometimes described as the opposite of capital expenditures.

Disinvestment typically refers to sale from the government, partly or fully, of a government-owned enterprise.
Need for disinvestment
PSUs have become and were continuing to be a drag on the Government's resources turning to be more of liabilities to the Government than being assets.

Many undertakings traditionally established as pillars of growth had become a burden on the economy. The national gross domestic product and gross national savings were also getting adversely affected by low returns from PSUs.

About 10 to 15 % of the total gross domestic savings were getting reduced on account of low savings from PSUs. In relation to the capital employed, the levels of profits were too low.
Objectives of disinvestment
Financing the increasing fiscal deficit.

Financing large-scale infrastructure development.

For investing in the economy to encourage spending.

For retiring Government debt- Almost 40-45% of the Centre's revenue receipts go towards repaying public debt/interest.

For social programs like health and education.