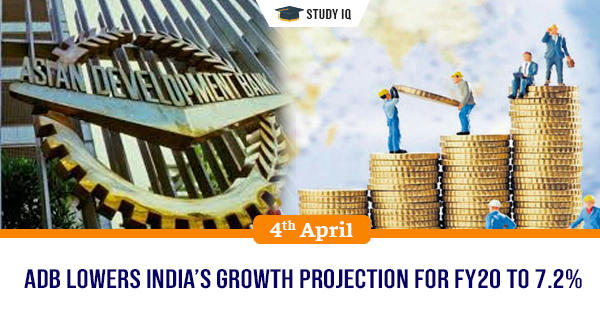 ADB lowers India's growth projection for FY20 to 7.2%
Date: 04 April 2019
Tags: Basics of Economics
Asian Development Bank (ADB) in its recently released Asian Development Outlook (ADO) 2019 has lowered growth forecast of India for 2019-20 fiscal to 7.2% from 7.6% estimated earlier. The downgrade is attributed to moderation in global demand and likely shortfall in revenue on domestic front. However, India will remain one of the fastest-growing major economies in 2019-20
ADB Projections
For 2018-19, ADB has cut growth estimate to 7% from 7.3% projected in December 2018.

The reasons for growth cut are weaker agricultural output and consumption growth curtailed by higher global oil prices and lower government expenditure.

Growth is expected to rebound to 7.2% in 2019 and 7.3% in 2020 as policy rates are cut expected and farmers receive income support, bolstering domestic demand.

This growth will reverse two years of declining trend as reforms to improve business and investment climate take effect.

However, India's growth faces some downside risks such as moderation in global demand as financial conditions tighten, uncertainty arising out of global trade tensions, and the weak economic outlook in industrial countries.

On the domestic front, growth could suffer if tax revenue falls short or any disruption affects ongoing resolution of twin problems of bank and corporate balance sheets/
Asian Development Bank (ADB)
It is multilateral lending agency based in Manila, Philippines. It was established on 19 December 1966.

It is collectively owned by its members. It has total 67 members – 48 from Asia-Pacific region (including India) and 19 from outside.

It is modeled closely on World Bank and has similar weighted voting system where votes are distributed in proportion with members' capital subscriptions.

It envisions prosperous, inclusive, resilient, and sustainable Asia and Pacific, while sustaining its efforts to eradicate extreme poverty in the region.

It assists its members, and partners, by providing loans, technical assistance, grants and equity investments to promote social and economic development

It provides finance to both sovereign countries as well as to private entities. It provides soft loans to poorer countries and hard loans to middle-income countries.

Most of its lending is concentrated in five operational areas viz. education, environment, climate Change & disaster management, finance sector development, regional cooperation & integration and private sector lending.