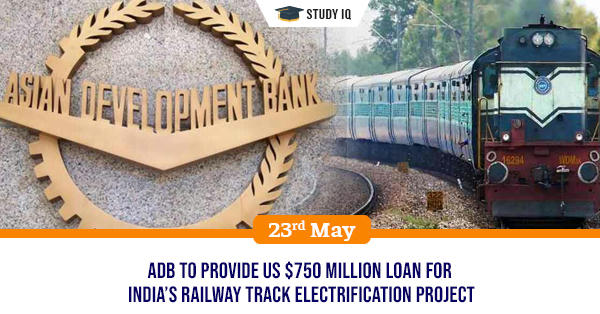 ADB to provide US $750 million loan for India's Railway Track Electrification Project
Date: 23 May 2019
Tags: Economic Organizations
Asian Development Bank (ADB) has signed agreement to provide US $750 million long-term financing to fund Railways Track Electrification Project in India. It is the largest single non-sovereign loan ever committed by this multilateral bank.
ADB Loan
The loan proceeds will be utilized by Indian Railway Finance Corporation (IRFC) to fund Railways Track Electrification Project.

The project was launched as part of Indian Railways broad modernization program that will help India's railway sector transition to electric power and away from dependence on fossil fuels.

IIRFC will use the proceeds from the loan to install electric traction equipment along approximately 3,378 km of existing railway lines. This will enable migration of passenger and freight traffic from diesel to electric traction
IRFC
It is financing arm of Indian Railways. It was set up in 1986 for mobilizing funds from domestic and international capital markets. It is fully owned by government and is registered as non-banking finance company.
Asian Development Bank (ADB)
It is multilateral lending agency based in Manila, Philippines. It was established on 19 December 1966.

It is collectively owned by its members. It has total 67 members – 48 from Asia-Pacific region (including India) and 19 from outside.

It is modeled closely on World Bank and has similar weighted voting system where votes are distributed in proportion with members' capital subscriptions.

It envisions prosperous, inclusive, resilient, and sustainable Asia and Pacific, while sustaining its efforts to eradicate extreme poverty in the region.

It assists its members, and partners, by providing loans, technical assistance, grants and equity investments to promote social and economic development

It provides finance to both sovereign countries as well as to private entities. It provides soft loans to poorer countries and hard loans to middle-income countries.

Most of its lending is concentrated in five operational areas viz. education, environment, climate Change & disaster management, finance sector development, regional cooperation & integration and private sector lending.