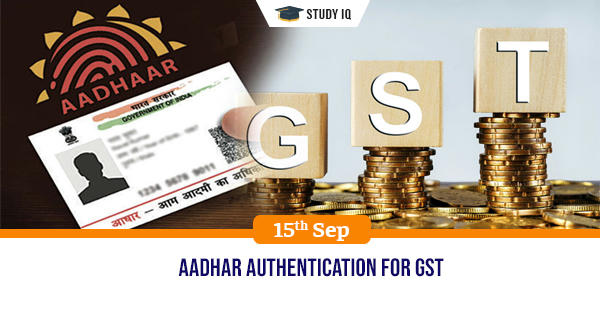 Aadhar authentication for GST
Date: 15 September 2019
Tags: Miscellaneous
Issue
To keep fake traders at bay, Aadhaar authentication or physical verification will be made mandatory for new traders coming under the Goods and Services Tax regime from January 2020.
Background
Goods and Services Tax is an indirect tax imposed in India on the supply of goods and services. It is a comprehensive multistage, destination based tax.
Details
Under the new rule, those who do not prefer Aadhaar authentication, can go for physical verification, which will be carried out in three days. Currently, Aadhaar authentication is optional and no physical verification is required.

The GST network is trying to make returns system more simple compared to the earlier one. All types of taxpayers will get a new system under three formats: Sahaj, Sugam and Normal.

Refunding will be made online to bring more transparency and convenience for traders and exporters.
GST Network
The Goods and Service Tax Network (or GSTN) is a non-profit, non-government organization. It will manage the entire IT system of the GST portal, which is the mother database for everything GST.