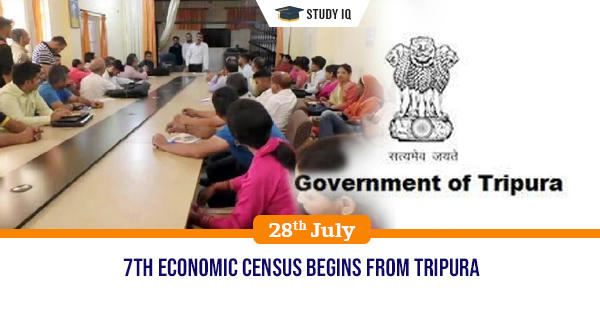 7th Economic Census begins from Tripura
Date: 28 July 2019
Tags: Miscellaneous
Union Government will kick off 7th Economic Census, a massive exercise aimed to get complete count of all economic units in the country from the north eastern state of Tripura. The census will be conducted by Ministry of Statistics and Programme Implementation (MoSPI) and is being conducted this year after a gap of five years. MoSPI haspartnered with CSC e-Governance services India Ltd (CSC SPV), , a Special Purpose Vehicle (SPV) under Union Ministry of Electronics and Information Technology as the implementing agency to conduct the census. It will be launched in other states/union territories in August and September.
7th Economic Census
It will undertake complete count of all establishment located within the geographical boundary of the country. It will help to put in place threshold turnover in monetary terms for households/ establishments for inclusion in the coverage of the Census.

The data will be collected through door to door survey of each household and commercial establishment as per the provisions of Collection of Statistics Act, 2008.

Coverage:

It will cover all establishments including household enterprises, engaged in production or distribution of goods or services in the non-farm agricultural and non-agricultural sector will be counted. It will also identify villages with no economic activity for policy purposes.

Implementing agencies:

Union Ministry of Statistics and Programme Implementation (MoSPI) and CSC e-Governance Services India Limited.

Digital Support:

It will be carried out through an IT-based digital platform for data capture, validation, report generation and dissemination.

National Business Register:

Economic Census will help to prepare a National Business Register which can be linked with existing databases at the central and state government levels. It will list of all establishments, tagged by geographical location up to village/ward level for local level planning purposes and provide information on number of workers working in establishments (which are under operation), activity-wise and area-wise.

Technical modalities:

Task group comprising representatives from NCAER, EPIC-India, Department of Industrial Policy and Promotion, labour and employment ministry, GST Network, Reserve Bank of India and NITI Aayog, will look at technical modalities related to the conduct of the census.
About Economic Censuses
It was launched in 1976 as a plan scheme. It undertakes complete count of all establishments located within the geographical boundary of the country.

It also provides detailed information on operational and other characteristics such as number of establishments, source of finance, type of ownership, number of persons employed etc.

It covers all entrepreneurial units in the country involved in any economic activities of either agricultural or non-agricultural sector and engaged in production and distribution of goods and or services not for own consumption.

Information gather from this census is used for micro level/ decentralized planning and to assess contribution of various sectors of the economy in the gross domestic product (GDP).

So far total Six Economic Censuses (EC) have been conducted till date. The first in 1977, second in 1980, third in 1990, fourth in 1998, fifth in 2005 and sixth edition in 2013.