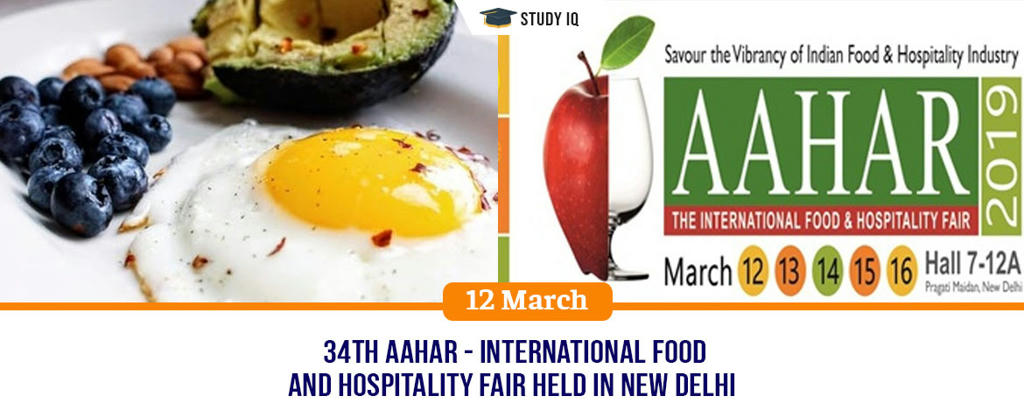 34th AAHAR - International Food and Hospitality fair held in New Delhi
Date: 12 March 2019
Tags: External Sector
The 34th edition of AAHAR - the International Food and Hospitality fair was held at Pragati Maidan in New Delhi. AAHAR is one of Asia's best known brands in Food & Hospitality shows. It is organized by India Trade Promotion Organization, premier trade promotion body under Ministry of Commerce.
AAHAR 2019
It featured wide range of food products, machinery, hospitality and decoration and confectionery items from over 560 participants from India and abroad.

It saw participation of around 20 countries, including US, Russia, China, UK, Germany, Italy and Singapore etc.

It will showcase new trends in food and beverage, hospitality, culinary technology, retail and new innovations.

It will also offer insight into operational and food safety concerns and innovations to become energy-efficient, finding budget-friendly raw materials for boosting productivity while still aiming for greater profitability.
India Trade Promotion Organization
It is the nodal agency of Union Government under aegis of Union Ministry of Commerce and Industry. It is headquartered at Pragati Maidan, New Delhi.

It is mini-Ratna Category-1 Central Public Sector Enterprise (CPSE) with 100% shareholding of Central Government.

Functions:

It aims at promoting country's external trade. It provides wide spectrum of services to trade and industry and acts as catalyst for growth of India's trade.

It approves holding of international trade fairs in India and regulates holding of various expositions in India.