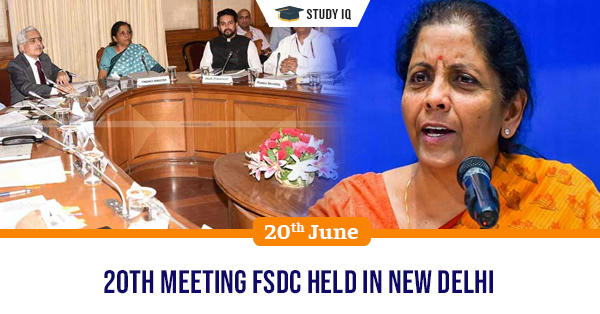 20th Meeting FSDC held in New Delhi
Date: 20 June 2019
Tags: Basics of Economics
The 20th Meeting of the Financial Stability and Development Council (FSDC) was held under the Chairmanship of the Union Minister of Finance and Corporate Affairs Nirmala Sitharaman. It reviewed current global and domestic economic situation and financial stability issues including, inter-alia, those concerning Banking and NBFCs.
20th Meeting of FSDC
It appraised of progress made towards setting-up of Financial Data Management Centre (FDMC) to facilitate integrated data aggregation and analysis as also Computer Emergency Response Team (CERT-Fin) towards strengthening cyber security framework for the financial sector.

It also held consultations to obtain inputs and suggestions of financial sector regulators for Budget. All the regulators presented their proposals for the Union Budget 2019-20.

It also took note of activities undertaken by FSDC Sub-Committee Chaired by Governor, RBI and action taken by members on the decisions taken in earlier meetings.
About Financial Stability and Development Council (FSDC)
It is super regulatory body (non-statutory) for regulating financial sector consisting of all regulators and Ministry Finance.

It was setup in 2010 by Indian Government as an executive body for bringing healthy and efficient financial system in economy of the country. It had replaced High Level Coordination Committee on Financial Markets (HLCCFM).

Objective:

Strengthen and institutionalise mechanism for maintaining financial stability, enhancing inter-regulatory coordination and promoting financial sector development.

Mandate:

It deals with issues relating to financial stability, inter–regulatory coordination, financial sector development, financial inclusion, financial literacy and macro prudential supervision of economy including functioning of large financial conglomerates.

Composition:

Union Finance Minister of India is chairman of FSDC. The other 12 members are Governor RBI, Chairman SEBI, Chairman IRDA, Chairman PFRDA, Minister of state (MoS) responsible for the Department of Economic Affairs (DEA), Secretary of Department of Electronics and Information Technology', Revenue secretary, Finance Secretary and/or Secretary, Department of Economic Affairs, Secretary Department of Financial Services, Secretary Ministry of Corporate Affairs, Chief Economic Adviser (CEA) and Chairperson of Insolvency & Bankruptcy Board of India (IBBI).

Sub-committee of FSDC:

It has been set up under Chairmanship of Governor RBI. It discusses and decides on issues relating to financial sector development and stability.