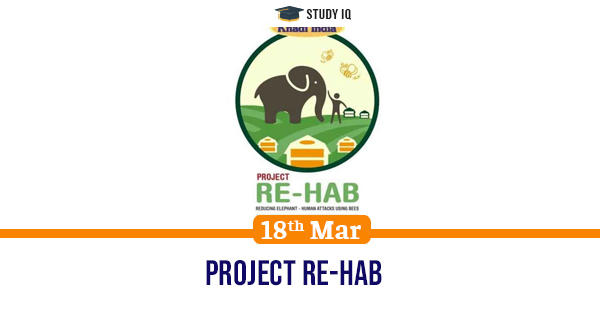 Project RE-HAB
Date: 18 March 2021
Tags: Miscellaneous
Issue
The Khadi and Village Industries Commission (KVIC) has started bee fence initiative under Project RE-HAB (Reducing Elephant – Human Attacks using Bees).
Background
Human and elephant conflict is a major cause of concern between policy makers. Various measures have been adopted to prevent such conflict.
Details
As part of the project, boxes with bees are being placed in four locations in Karnataka's Kodagu district, which is prone to man-elephant conflict.

The project will try to reduce human and elephant fatalities using honey bees as a deterrent against the animals, without causing them any harm.

Scientists have proven records to claim that elephants are annoyed and frightened of honey bees. Their collective buzz can force elephants to turn away.

The technique will consist of bee boxes that will be set up near the route frequently used by elephants. The strings attached to boxes will be triggered, resulting in collective buzz noise to scare away elephants.

There are plan to expand this project across parts of India by using the Kodagu example as a pilot study.
Benefits
The method is extremely cost-effective, when compared to other techniques like digging trenches or erecting fences.

The technique will not cause any harm to either animal or human unlike electric fences or booby traps.
Human and elephant conflicts
Nearly 2,500 people have died to elephant attacks during 2015 to 2020. There were about 170 deaths reported in Karnataka alone.

The state ranks fifth in most death of humans during this period. West Bengal (403) and Odisha (397) have reported highest deaths in the country.
Similar techniques
Project Bee was initiated out by Northeast Frontier Railway (NFR) to keep away elephants from railway tracks.

The system consists of a device that will imitate a buzzing sound of honey bees, prompting elephants to move away from the area.