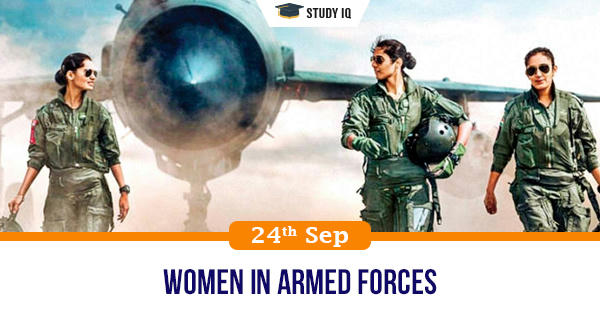 Women in armed forces
Date: 24 September 2020
Tags: Miscellaneous
Issue
The Indian Navy has announced selection of two women officers as Observers in the helicopter stream, making them first women airborne combatants who would be operating from warships.
Background
The Supreme Court had upheld that the women Short Service Commission officers in the Navy were eligible for Permanent Commission. The Navy had also inducted the first woman pilot in December last year.
Details
Prior to 1992, women officers were inducted in the Navy only in the medical stream from the Armed Forces Medical Service.

From July 1992, the Navy started inducting women, initially through a special entry scheme and later through the Short Service Commission, in only select branches of the Navy.

Over the years, various branches were added to the list, and currently women officers can join the Navy in the streams of Air Traffic Control, Observers, Law, Logistics, Education, Naval Architecture, Pilots in Maritime Reconnaissance Stream only, and the Naval Armament Inspectorate.

It needs to be noted like in the Army and the Air Force, women are currently only inducted as Commissioned Officers and not in Other Ranks which are of categories of Junior Commissioned Officers and Non-Commissioned Officers.

Entry in the helicopter stream means that women officers can now be deployed on frontline warships from which helicopters can operate.

In terms of various challenges towards deployment of women onboard warships, the logistics part is not as challenging as one would imagine.

The question of mindset and gender sensitization, on the other hand, is something many believe would require concerted efforts, and concrete steps are being taken in that direction.

While women officers appreciate the support of many male military leaders in these processes, they also highlight the resistance from the system as a whole.

Women officers hope that these developments would result in them being posted at commanding positions on the ships which are a key for career advancements in the operational streams.