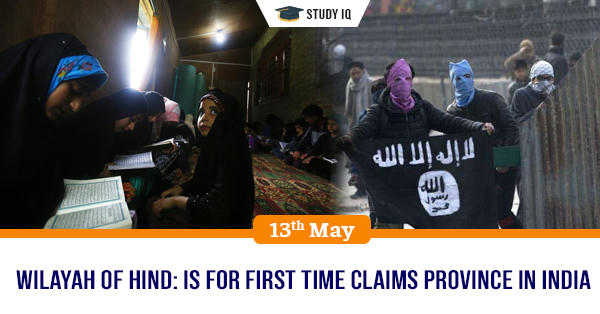 Wilayah of Hind: IS for first time claims province in India
Date: 13 May 2019
Tags: Tackling Security Threats
Terror organization Islamic State (IS) has claimed for the first time that it has established "province" in India called "Wilayah of Hind" (Hind or India Province). The first of its kind announcement by this dreaded terror outfit comes after clashes between militants and security forces in Kashmir on May 10, 2019.
This low key announcement was made thorough Amaq News Agency, mouthpiece of IS. It did not elaborate on IS's geographical remit. It also claimed that group has inflicted casualties on Indian army soldiers in town of Amshipora in Shopian district of Kashmir.
ISIS's statement corresponds with recent J&K police statement that militant called Ishfaq Ahmad Sofi was killed in an encounter in Shopian. According to military officials, Sofi was involved in several militant groups in Kashmir for more than a decade before pledging allegiance to Islamic State.
Absurd claim
According to Indian security experts, establishment of province by IS in a region where it has nothing resembling actual governance is absurd, but it should not be written off. It is merely a "pure propaganda" to bolster its standing after the group was driven from its self-styled "caliphate" in Iraq and Syria in April 2019.
Though separatists in J&K have for decades fought armed conflict against Indian rule in Kashmir. The majority of these groups want independence for Kashmir or to join Pakistan and they have not, like Islamic State, sought to establish an empire across the Muslim world.
Comment
This low key announcement by ISIS is seen as part of its strategy to give the impression of strengthening its global affiliations following territorial losses in the Middle East. Such strategy was highlighted by ISIS chief Abu Bakr al-Baghdadi in the past.

This is not first instance ISIS claiming attacks against Indian security forces in Kashmir. It has been claiming it since November 2017 without any branch affiliation.

Prevously, ISIS attacks in Kashmir were linked to its so-called Khorasan Province branch, which was set up in 2015 to cover "Afghanistan, Pakistan and nearby lands".